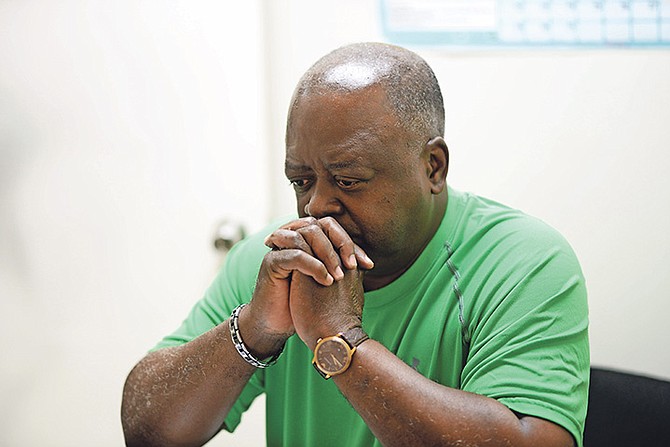 By RASHAD ROLLE
Tribune Staff Reporter
rrolle@tribunemedia.net
SEVERAL hundred feet from a jovial tree-lighting ceremony on Cordeaux Avenue was the scene of the country's most recent police-involved killing Friday night. 
According to The Tribune's records, Marc Charles' death marked the eleventh time someone has been killed this year in a police-involved shooting and the fifth time it happened in a month. 
The Royal Bahamas Police Force (RBPF), in a press statement, reported what they believe resulted in the fatality. But some lawyers and families of relatives who have died in custody or in police involved shootings are not only bemoaning delays into the coroner's inquests into such matters, but even warn that inadequate resources for the court mean there is no guarantee all the cases will be addressed as the law demands. 
Several lawyers conceded that people who come from poor backgrounds who are killed are particularly vulnerable to having their matters lost in the system; and if an attorney is not pushing a case on behalf of a family or relative, an inquest may never take place––exposing the country to a potential human rights blind-spot. 
Former State Minister for Legal Affairs Damian Gomez, QC, was one of more than a dozen people who spoke to The Tribune about the issue. 
"Any death associated with the state," he said recently, "ought to have an inquest. But one of the problems with being poor in this country is you don't have access to facilities so you may not get an inquest. There should be Legal Aid available in all of these cases so a proper inquiry is done. You are talking about a person's life here."
The critics are not anti-police. Their gripe, for the most part, is not with the RBPF. Christina Galanos, one of the country's most experienced lawyers in matters involving in-custody deaths, recently said: "As with all things there are going to be those matters where sure, the police acted correctly. The deceased would have put the police in a position where either 'I'm going home to my family tonight or not so I had to make a decision for my survival.' The point is that all these families are entitled to an inquest at the Coroner's Court and the law gives them that. They're not asking for any favours."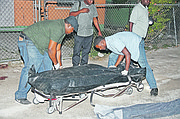 The purpose of the Coroner's Court is to determine causes of death and to help prevent future deaths. Inquests, even cases that result in rulings of lawful killings, can spur recommendations for how authorities can prevent future deaths, be it by adopting new technologies like Tasers or using safer methods of dealing with recalcitrant suspects. 
But unlike other courts in the Bahamas, Ms Galanos said, the Coroner's Court does not reliably set dates for inquests, placing it afoul of the Coroner's Act which mandates dates be set in a timely fashion after inquiries are performed. 
"(When I'm dealing with other courts), if I need a date, I write a letter and within a reasonable time I receive a date for a hearing for whatever it is and I'm able to communicate that date to the client," she said. "… Within a four to six-week period I know when the date is. My experience with the Coroner's Court is, and I can provide proof, sometimes my letters go completely unacknowledged and when they are acknowledged, I'm informed that a date will be given but none is forthcoming." 
Ms Galanos said it's difficult telling clients they don't yet have an inquest date.
 "They look at it as if you are at fault, they think that perhaps my attorney isn't aggressive enough," she said.
"These people are hurting. Their loved ones, practically all of them have died suddenly and in very strange circumstances; circumstances where whether it was a lawful or an unlawful killing, whether their son or their daughter did anything wrong, they are suspicious. If someone calls you and says that your child is dead, you automatically assume the worst. In practicing this year in the criminal courts, some of the judges say to you with a serious face, 'are you available in May 2020?' That's where the court's calendar is, that's when they are available to hear the matter. But even so, having a date gives a sense of reassurance that the system has not forgotten about me, my situation and my loved one." 
Attorney Romona Farquharson-Seymour blamed the RBPF and the Office of the Attorney General for the Coroner's Court's inefficiencies in such matters. She said those institutions take an "inordinate" amount of time sending their files to the Coroner's Court.
"The AG's Office," she said yesterday, "marshals many of the matters. Police deal with interviews, the AG's Office usually sends the file on to the Coroner's Court and that's where the delay arises."
Mrs Farquharson-Seymour has a pending case in Freeport involving a family that has been waiting nearly four years for an inquest date.
"We can't go anywhere," she said. "Freeport saying they sent the file to Nassau, police say they still have the file so the coroner hasn't gotten the file to set a date down." 
She added: "There are some horror stories out there. There's one matter involving a customs officer who was killed over 20 years ago. The inquest into that hasn't come up yet. "There is another one involving a client of mine, his son was killed by Bamboo Shack on Blue Hill Road opposite BEC and that's about seven years ago now and still no inquest."
The inefficiency is puzzling, she said, especially since it starkly contrasts with how the RBPF and the Office of the Attorney General handle voluntary bills of indictment (VBI) in cases where people are accused of serious crimes like murder or armed robbery.
"If they can get VBIs together, they can get these together," she said. "They have enough officers for them to get it done. We have over 100 murders a year. At least 70 per cent of the time VBIs are ready in three to six months and it involves the same process as what is needed in police shooting matters. In fact, it's less arduous because you're not levying any charges. It's just a pathologist report, witness statements, etc."
The Tribune was unable to obtain official statistics on how many inquests into police-involved shootings and in custody deaths are pending. Critics said the RBPF's involvement in investigations raise serious conflicts of interest concerns which may be tied to the inefficiency of the court when it comes to such matters, an inefficiency that remains the court's most pressing issue. 
For people like the family of Terrique Fowler, 22, who was killed more than four years ago after he was shot in his back in Fox Hill on June 7, 2013, lack of a date feeds suspicions the government has something to hide. 
"You can see the impact his death and the lack of answers had particularly on my nine-year-old grand-daughter who understood what had transpired," said Terrique's father, Tyrone Fowler, 62, in a recent interview. "She doesn't even want to look at his picture on the wall." 
Since the loss of his son, Mr Fowler, a retiree who worked in the financial services sector for over 40 years, said it had been difficult holding his composure at work and sleeping at night. 
Last week Friday the coroner's office called and informed him the pathologist report into his son's death is finally ready to be picked up.
"That's laughable after four years," he said. "I went there and filled out the form for it but my wife did the same thing four years ago."
Inquests into the deaths of Aaron Rolle and Jamie Smith who died in 2013 while in police custody started and were completed that same year, even as Fowler's matter is yet to begin. Critics said this illustrates a fundamental point about how the justice system works with respect to such matters: highly-publicised deaths are dealt with quickly; lower profile ones can linger in the system for years. While Mr Fowler awaits his court date, the family of Christopher Turnquest who died in a highly-publicised Royal Bahamas Defence Force (RBDF) boating accident last year has had several inquest hearings this year.  
"How is it you're able to jump the queue?" Mr Gomez asked. 
Meanwhile, Jason Rutherford, 37, Fowler's brother, said when cases "jump in line" or start and finish while others that originated around the same time remain in limbo, it makes him feel like there is something being covered up.
For the family of Wysley Pierre, 33, not getting an inquest date has meant their pain has been prolonged. In a letter to Ms Galanos on February 9, 2015, Coroner Janine Weech-Gomez said she had the file concerning Pierre's matter but a date had not been set for the inquest. Pierre died in police custody on April 6, 2014, after he allegedly stabbed an officer in the face with a pen and escaped from the Georgetown Police Station in Exuma. 
In the days before his death, he became mentally unstable, worrying his mother in Exuma. A relative of Pierre who spoke to The Tribune on the condition of anonymity said she was the one who encouraged the mother to call the police, a decision that haunts her. 
"His mother, she's the only one on that island right now and he was the only one with her," she said. "She's still crying up to this day. We want answers. We want this to be over with." 
For the family of Tyrone Saunders Jr, who died at the Central Detective Unit (CDU) on June 8, 2012, the unusual circumstances of his matter before the Coroner's Court have aroused suspicion. 
Documents seen by The Tribune show Mrs Weech-Gomez informed Ms Galanos in 2014 that her predecessor, Linda Virgill, released a certificate on the death of Saunders Jr based on Section 20 of the Coroner's Act which gives the coroner authority to determine that an inquest is unnecessary after an initial inquiry is performed. Ms Virgill concluded Saunders' death in police custody had been "properly investigated and that no further light would be thrown upon (the) case by a public inquiry," according to the certificate she signed. She said the 22-year-old suffered a heart attack and died of cardiorespiratory failure. The problem, Ms Galanos noted, is that Section 27 of the Coroner's Act mandates that the coroner "must decide to hold an inquest for the purposes of the inquiry if the death appears to have been a death in official custody or care." Failing to hold an inquest is not an option available to the court in such matters, she said. 
Ms Galanos recently came in contact with Saunders Jr's father, Tyrone Saunders Sr, and she is preparing her next move in the case. The mother of the deceased who previously dealt with the matter on behalf of the family has passed away. 
"As far as she knows, she died not knowing what really happened to her son," Mr Saunders Sr said in a recent interview. Seven-year-old Tyrece Saunders occasionally reminds his grandfather that he has never known what happened to his father, Mr Saunders Sr said, adding that the night before he travelled from his home in Abaco to meet The Tribune and Ms Galanos in New Providence, his grandson gave him a picture of himself as a baby with his father and said: "Papa show them this please. This me and my daddy."
Authorities do not typically release the identity of people killed in police-involved shootings as they do for homicides. The statistics on such matters are also not included in annual year-end reports. 
Attorney Wayne Munroe has been approached for representation purposes by relatives of at least one person recently killed in a police-involved shooting: 29-year-old David Nichols who died on November 23. Though it drew scant attention nationally, Mr Nichols' death rocked the Fox Hill community. He was memorialised and buried Saturday and his funeral repast was said to have attracted hundreds of residents, some who wore shirts decorated in his honour. At least one police patrol unit was on hand to monitor the events. Police said Nichols was known to them. Friends said he had been in and out of custody for years.
Other recent police-involved killings include that of Harold Kevin Brown and Richard "Buddy" Bastian on December 2. The immediate family of the two men have approached several lawyers for representation, The Tribune understands. 
Coroner Jeanine Weech-Gomez declined The Tribune's request for an interview last week. "Regrettably," she said, the nature of her job does not make granting interviews appropriate. She referred The Tribune to the Office of the Attorney General or the Registrar General's Department.