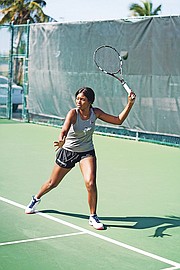 By BRENT STUBBS
Senior Sports Reporter
bstubbs@tribunemedia.net
IT was a successful return to the National Tennis Centre for top seeds Kerrie Cartwright, Simone Pratt and Danielle Thompson as the 2017 Giorgio Baldacci Open Nationals got underway on Monday.
Rising junior stars Sydney Clarke and Afrika Smith also joined them in the win column.
But it was busy as usual as the men's top seeds of Baker and Spencer Newman, Marvin Rolle, Kevin 'KJ' Major Jr and Philip Major Jr all prevailed.
But Justin Lunn, Joshua Turnquest, William 'JJ' Fountain and Jody Turnquest all made their presence felt.
Day one of the weeklong tournament produced some exciting matches as the players are vying for spots on the Bahamas' Davis Cup team for men and the Fed Cup for women in 2018.
In what turned out to be the marquee match on the ladies' side between two Grand Bahamian natives, Pratt held off a gallant effort from the 2014 Fed Cup player/captain Larikah Russell with a 6-7, 7-5 (10-4) win.
"It was a very tough match," said Pratt, a senior at Nova Southwest University who was back in the tournament for the first time in at least four years. "It was great to be back in my country plying again. I just want to give it my best and whatever happens, happens."
Russell, the veteran of the two at age 32, managed to pull off the first set in a tie breaker and was tied at 5-5 when the 21-year-old Pratt got a break and held serve to win and force the third set tie breaker.
In the tiebreaker, Pratt surged ahead 6-2 and was able to secure the win. "The first set, I started out playing very nervous because I haven't played in a while," said Russell, who is coming off a Bahamas Softball Federation's national championship title with the Sunshine Auto Wildcats as their shortstop. "But I started to settle down and put more balls in play and I felt a little more confident, so I was able to settle into the match. I'm very proud of myself in taking her to the limit. Hats off to her for hanging in there."
With a little rest, Pratt bounced back and pulled off her second win with a 6-0, 6-2 win over junior player Elana Mackey.
Top seed Cartwright shines
In what turned out to be a relatively easy day on the court, Cartwright, the only player in the tournament with a WTA ranking, blanked Grand Bahamian Donesha Gibson 6-0, 6-0.
"It was good. It was good to be back home playing," said Cartwright, who missed the previous two tournaments. "It was a good match. I felt good."
Cartwright, now ranked at 1164 in singles and 828 in doubles, said she's just trying to concentrate on her game and hopefully get better in each match and not worry about who is in the draw. But she's excited to have players like Simone Pratt, Larikah Russell and Danielle Thompson.
Clarke impressive
As the country's top junior player, Sydney Clarke lived up to her expectations as she breezed past Perjae Major for a 6-0, 6-0 win.
"It was great. I was solid and I didn't make that many mistakes," said Clarke, who advanced to the semifinal of the recent ITF Goombay Splash held here last month for some of the top junior players in the world.
"I feel excited with a lot of mixed emotion because a lot of the top players are home like Kerrie Cartwright, the top seed. I'm very anxious, but I am ready to play one of them in the main draw. My game has improved since last year, so I am more prepared."
Thompson back in form
In making her return home for the tournament, Danielle Thompson came through with a 6-0, 6-0 win over Sydni Kerr.
Newman leading the pack
Returning as the defending champion and the top seed, Baker Newman didn't disappoint anyone with his 6-0 6-0 win over BLTA's public relations officer Perry Newton.
"It was good. I just had some fun out there. Obviously the level was a little different, but it was good to see him come out and be apart of the tournament," Newman said.
As the tournament progresses, Newman said he's going to take it one match at a time because there are a lot of good players participating like his brother, Spencer, Marvin Rolle, Kevin Major, Philip Major and Justin Lunn.
"It should be fun. I haven't played in a while, so I just want to get some matches in," said Newman, a senior on Vanderbilt men's tennis team where he's coming off an injury.
No. 2 Newman also won
In identical fashion, Spencer Newman proved why he's the No.2 seed with his 6-0, 6-0 win over Archie Burrows.
"I was really happy with the way I was able to focus through that match. I think I lost three points in the first set and didn't lose any in the second," Spencer Newman said.
"It had to do a lot with my focus and how I was able to string together so many points, so I'm happy with that. I've been training very hard."
Newman had a second match for the day, winning 6-1, 6-1 over Shannon Francis.
Rolle on a roll
The veteran player/captain of the Davis Cup team was just as impressive, winning 6-0, 6-0 over former baseball player Michael Butler.
Rolle came back later in the day and won 6-1, 6-0 over Calum Moodie.
Major Jr prevailed
No. 4 seed Kevin Major Jr rebounded after losing a point against Robert Smith to pull off his 6-1, 6-0 win.
"This one was kind of strange. I played Robert Smith, an unorthodox player. It wasn't much rhythm, but I got it done," Major Jr. said.
"I had an injury free season in college (Savannah State), so I'm feeling pretty good about myself. Hopefully I can pull it out."
With what he termed a pretty good draw, Major said he's confident that he can advance as the top seed to the main draw on Thursday.
Before he was done for the day, Major Jr won 6-1, 6-0 over junior player Oneal Mortimer.
The other Major Jr gets a win too
Philip Major Jr, the No. 5 seed, also got a quick win with his 6-0, 6-0 decision over Nathan Thompson.
"It was pretty good. It wasn't much challenge, but you have to respect everyone and I'm just excited that I came out with the win," Major Jr said.
"I had an injury that I had to deal with since Davis Cup, so I'm just happy to be playing again and I am going to give it my best shot."
Major Jr, however, had a tougher time in his second match, winning 7-6, 6-2 over Donte Armbrister.
Lunn came through
Justin Lunn, now training in Montreal, Canada, is hoping that he can make it through the tournament so that he can secure his spot on the Davis Cup team again. He won his opener 6-0, 6-0 over Calum Moodie.
"The first match went well. My routine worked very well, which is to take one match at a time," Lunn said. "So I'm feeling really good, better than last year when I got sick and wasn't able to finish in the second round of the main draw.
"But this year, I'm feeling much better. I'm always ready. Everybody's playing solid, so it's just who is mentally tougher and physically fit. But it's a honor to come back and show what you have been working on."
Lunn played his second match
In other scores, William Fountain won 6-4, 7-5 over Oneal Mortimer; Jody Turnquest won 6-2, 7-5 over Donte Armbrister; Jody Turnquest won 6-0, 6-0 over Nathan Thompson; William Fountain won 6-1, 6-3 over Robert Smith and Michael Cooper won 6-2, 7-5 over Archie Burrows.
The tournament will continue play today at 9 am.Lunn played his second match 6-0, 6-1 over Michael Butler.
Today's schedule is as follows:
10 am - Kevin Major Jr vs William Fountain; Spencer Newman was Michael Cooper; Baker Newman vs Joshua Turnquest; Marvin Rolle vs Justin Lunn and Philip Major Jr vs Jody Turnquest.
1 pm - Donte Armbrister vs Nathan Thompson; Oneal Mortimer vs Robert Smith; Shannon Francis vs Archie Burrows and Calum Moodie vs Michael Butler.
3 pm - Sidney Clarke vs Sierra Donaldson; Danielle Thompson vs Afrika Smith and Larikah Russell vs Elana Smith.