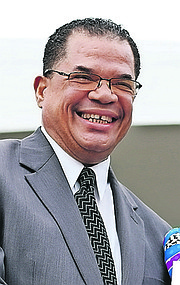 By KHRISNA RUSSELL
Deputy Chief Reporter
krussell@tribunemedia.net
LABOUR Minister Dion Foulkes said he is currently working to see how best the government can reach a resolution after 30 people were terminated from the Gaming Board.
Mr Foulkes said: "I had a meeting with the executives of the Bahamas Public Services Union (BPSU) yesterday (Monday) for several hours. We discussed all of the issues involved (along) with their concerns about the layoffs at the Gaming Board. I made a commitment to them that I will attempt to meet with the chairman and the board and put their concerns to the board to see if I can get a resolution to the problems.
"They have five major issues that I intend to raise with the Gaming Board today. I have requested an urgent meeting with them. One or two of their board members, there are only four, one or two of them, are out of the country so if the meeting comes off hopefully I'll be able to have a discussion with them."
Earlier this month the BPSU said it was pursuing "legal action" against the Gaming Board for the terminations.
BPSU President Kingsley Ferguson had said the union hired a lawyer and was pursuing legal action against the government for refusing to reinstate some of the terminated employees.
At the time Mr Ferguson also reiterated the Minnis administration had until the end of the week to rehire some of the employees or further "action" will be taken.
According to the BPSU, 17 employees, ranging from administrative assistants to revenue collectors and managers, were terminated at the end of November. Last month about 18 workers were sent home from the Gaming Board.
The Minnis administration has taken a conservative approach to public sector hiring and has not shied away from letting workers go since the May 10 general election.
Since that time, more than 100 people have been let go for various reasons, according to The Tribune's reports.