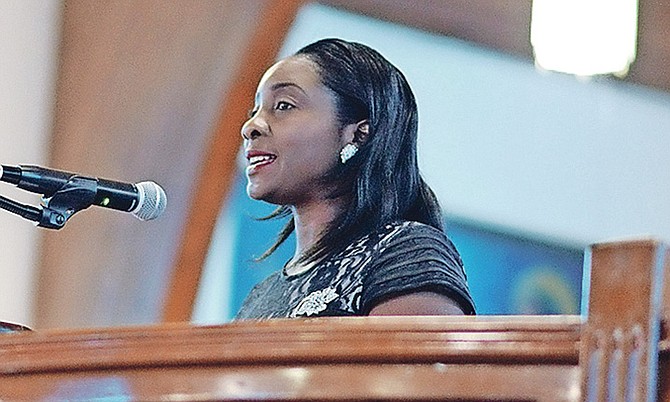 By KHRISNA RUSSELL
Deputy Chief Reporter
krussell@tribunemedia.net
SOCIAL Services and Urban Development Minister Lanisha Rolle, the only woman in Cabinet, yesterday shied away from taking a firm position on whether marital rape should be criminalised in The Bahamas, but insisted marriage is private and its sanctity should be protected.
Mrs Rolle said before the government acts or makes determinations that legislate how people's personal lives are managed – adding there are two sides to every story – there should be a proper national conversation on spousal rape. Once a public consensus is taken, she said the Minnis administration should act accordingly.
Meanwhile, her colleague, Deputy Prime Minister K Peter Turnquest said his personal view is marriage does not give a man the right to "own anybody". He said every woman is to determine what happens to her body, which is a fundamental right.
Asked whether he believed the issue was something that should be looked at legislatively, the minister of finance said he was "certainly" open to this.
The issue of recognising marital rape was again ignited in the country after Dubravka Šimonović, the UN's special rapporteur on violence against women, said last week marital rape is the most pressing gender-based issue facing the Bahamas.
Ms Šimonović, a human rights expert, stressed the legality of martial rape is "a sign that something is deeply wrong," adding the issue could easily be resolved through legislative changes.
"Certainly, we do not support any form of violence against women," Mrs Rolle told reporters yesterday ahead of the morning Cabinet session. "That is the stance that the country has taken. Certainly, I am one that supports that.
"In relation to marital rape, I have always said that it is an issue that is private. It can become public, but we want to start where marriage is sacred and marriage is private. And so, if we are going to legislate any type of law to affect marital couples and relationships between those parties, it is proper to have a conversation with the wider community to get their perspective on how they feel about it.
"Certainly, there are existing laws that deal with domestic violence that deal with sexual offences. There are laws that are on the books at this time," the Seabreeze MP said.
"The Penal Code covers several offences in relation to acts and rape is one of them, assault is another, but when we get into the sanctuary of marriage it's very, very important I feel because this relates to both parties and you know nobody else would be there than those two parties."
Asked pointedly if she believed marital rape should be outlawed, the minister said: "I said when it comes to the privacy and the rights of individuals particularly those within a marriage, we want to hear what the population has to say before we go and legislate and make determinations as to how we are going to manage people's lives.
"Sometimes people say one thing and then there are two sides to the story and so let's hear what everybody has to say without just making decisions. Outside of that I think that's the appropriate thing to do in a sensitive situation like this other than that let the law take its course in any form and any kind of way," Mrs Rolle said.
She added that men were also victims of rape and were often laughed at when trying to report the matter.
When he was asked if he thought marital rape should be criminalised, Mr Turnquest said he believed "there ought to be consequences".
He said: "I think it is something that we need to look at. There is this argument from some churches with respect to this right. I don't necessarily share that view and I apologise if that offends anybody, but I just don't share that view.
"I think that each of us has an inalienable right to decide for ourselves and to protect for ourselves. To the extent that somebody forces themselves on the other I think there ought to be consequences."
Earlier in his interview with reporters, Mr Turnquest said: "My personal belief is that no man has the right to force himself on any woman whether married or not. So as far as the law is concerned I am not a lawyer so I won't get too much involved in that."
"But I think as a fundamental right every woman has a right to determine what happens to her (and) to her body and no man has the right. You don't own anybody. Slavery was (abolished) a long time ago and nobody has the right to abuse another person, a man or woman. We need to look at it legislatively. Certainly, I am open to it.
"I can't imagine that any man would think it's right to force himself upon a woman. I don't care if you are married to her or not. It's just unacceptable," he said.
On Monday, Attorney General Carl Bethel, acknowledging the controversial nature of the issue, said he hopes a compromise can be made resulting in characterising sex without consent in a marriage as sexual spousal abuse as opposed to rape. This, he said, could be addressed by amending the Matrimonial Causes Act or the Domestic Violence (Protection Orders) Act.