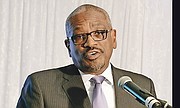 By KHRISNA RUSSELL
Deputy Chief Reporter
krussell@tribunemedia.net
PRIME Minister Dr Hubert Minnis yesterday announced the relaxation of exchange controls on capital and current trade account transactions allowing Bahamian owned businesses to maintain operating deposit accounts up to $100,000 in foreign currency at domestic commercial banks.
These changes are expected to come into effect as of February 1 next year the prime minister said during a press conference at his West Bay Street office.
Dr Minnis further announced the buying and selling rates for the investment currency market (ICM) will be reduced from 12.5 per cent and 10 per cent respectively to five and two and a half per cent.
"If you have money abroad now you can bring that money back home, deposit it in Bahamian banks, banks here maintain that foreign currency that will have an impact on your foreign reserves, thus foreign reserves coming home," Dr Minnis said when he was asked how the relaxation was expected to impact Bahamian businesses.
"What will also happen is Bahamians generally like to touch, feel and see their money. Their monies would now be under the jurisdiction and the legal profile of the Bahamian authority as opposed to foreign jurisdiction that you have no control of.
"Not only that, in terms of purchasing, you can purchase without having the bureaucracy of any delay in (the) Central Bank. You have the money available to you and you can utilise it.
"This is an initial step of liberalisation. We are going first with the business sector and we will look at the non-business sector. That's what you call liberalisation, removing certain stages."
Speaking to his administration's commitment to helping small and medium-sized business, the prime minister said the government will make the legislative, regulatory and programmatic changes necessary.
"After consultation with the Central Bank, and discussion by the Cabinet, I wish to announce the relaxation of exchange controls on capital transactions, namely on capital (investment) and current account (trade) transactions," he said in his earlier remarks.
"These changes should come into effect as of February 1, 2018.
"Without prior reference to the Central Bank, Bahamian-owned businesses will be allowed to maintain operating deposit accounts with up to $100,000 in foreign currency at domestic commercial banks. These accounts will have to be funded exclusively from revenues earned in foreign currency. Central Bank approval will continue to be required for accounts with balances of more than $100,000 in foreign currency."
He also said: "Residents will be able to fund investments at the lower rate of B$1.05 equal to US$1 and to repatriate investment currency proceeds to the Bahamas at the rate of B$1.025 equal to US$1.
"The bank also proposes to delegate the operation of the investment currency market to commercial banks, at a date to be arranged in 2018.
"Let me also announce another reform that will affect quite a number of Bahamians. Upon application to the Central Bank, Bahamians and residents will be given approval to retain foreign currency denominated deposits or investment assets currently held outside the Bahamas, or to repatriate the facilities to the Bahamas and maintain the same in foreign currency.
"No penalties will be imposed on regularised accounts and investments."
Prohibitions will exist against either funding or augmenting these facilities with proceeds converted from Bahamian dollars, Dr Minnis said, adding the government is committed to targeted, ambitious and sustainable liberalisation of the capital account.
He said the government will continue to review further gradual adjustments in the exchange control regime.