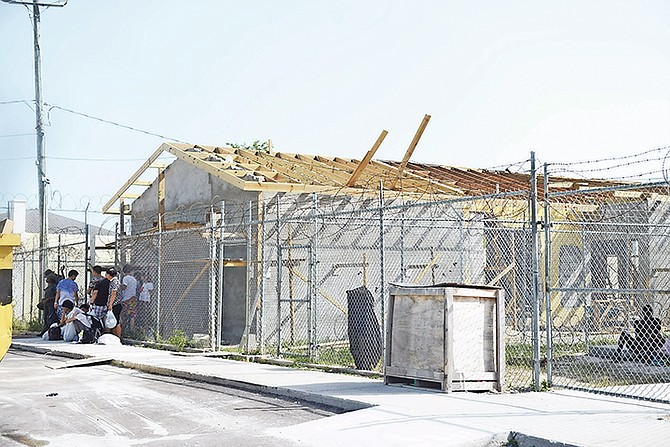 By Sancheska Dorsett
HEAD of the Department of Immigration's Enforcement Unit, Kirklyn Neely yesterday doubled down in defence of his department's practices, expressing distaste over the outcome of recent court proceedings.
In an interview with The Tribune, Mr Neely said immigration officers have no intention on changing the way they apprehend illegal immigrants and will instead be "stepping up" efforts despite criticism from human rights groups.
"Why would we change the way we do things? Illegal is illegal," Mr Neely said.
"These people come here by boat and are smuggled in this country. Our job is to protect our borders and to put Bahamians first. If we change the way we do things and become slack, we might as well forget about the December 31 deadline, close down our operations and let everyone in.
"People forget that just because you are born here that does not make you automatically Bahamian. You have to apply and if you don't come here the right way you have to go. We have one country and we have to take care of it. So if anything we will be stepping up our efforts."
On Tuesday, a Supreme Court judge granted bail to 11 persons who were detained at the Carmichael Road Detention Centre or immigration safe houses. They, along with the four detainees released last week, bring the total of people freed from the detention by the courts to 15.
Attorney Damian Gomez and president of Rights Bahamas, Fred Smith, who represented the individuals that includes three children, argued that the persons were unlawfully detained. 
As it relates to the 11 detainees granted bail on Tuesday, Justice Gregory Hilton said those individuals would themselves sign to pay $1,000 should they not show up on their respective adjourned dates, and report to the Department of Immigration once a week every Wednesday until then.
The Department of Immigration intensified its apprehension efforts in November after a large empty sloop was discovered on the shoreline of Adelaide Beach.
One month later, a boat "loaded" with Haitian migrants landed near Clifton Pier, about three miles from Coral Harbour. Immigration officers and other authorities spent last week combing the area for the migrants. The RBDF said 57 people - 43 men, 11 women and three children - were taken into custody and transported to the Carmichael Road Detention Centre.
The illegal landing prompted Progressive Liberal Party Leader Philip Davis to call for "heads to roll," saying an explanation is needed from authorities why two sloops were able to land so close to the Royal Bahamas Defence Force's Coral Harbour Base.
The immigration sweeps angered Mr Smith, who has written to members of the government expressing displeasure about the "complete and intentional" breakdown of the rule of law regarding the actions of immigration officials and the Royal Bahamas Defence Force (RBDF).
In October, Prime Minister Dr Hubert Minnis gave illegal immigrants a December 31 deadline to leave the country voluntarily or face being "aggressively pursued and deported." This week he reiterated the call, saying undocumented migrants must leave the country by the end of the year or apply for legal status. 
More like this story