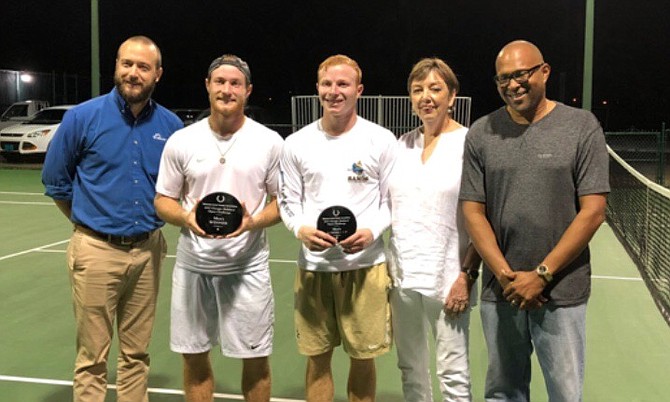 By BRENT STUBBS
Senior Sports Reporter
bstubbs@tribunemedia.net
IN contrasting styles, Spencer Newman and Kerrie Cartwright emerged as the champions of the Bahamas Lawn Tennis Association's 2017 Giorgio Baldacci Open National Tennis Tournament.
Batting it for at least three hours, big brother Spencer Newman finally turned the tables on younger brother Baker Newman in pulling off the men's title with a 6-4, 4-6, 7-6 (4) decision.
"I don't think it gets any closer than that," said Spencer Newman after the final score. "I'm happy with the way I played. I'm happy with my finish. I felt I was as fresh going into the third and even fresher than going into the second set."
That rejuvenation was able to allow 24-year-old Spencer Newman to finally get the monkey off his back after he played and lost to Baker Newman, 22, in the final of the tournament in that past two years.
Despite losing the title, Baker Newman said he's not disappointed in losing the grueling match that was played under the lights on stadium court. 
"You win some and you lose some," Baker Newman pointed out. "He got me this time. I knew what I need to do to get better. It was just a great match."
Pennie Baldacci, the wife of the late Giorgio Baldacci, whom the BLTA named the tournament after, was in attendance along with her son Adriano Baldacci. She said she was pleased with what she saw in the men's match.
However, she missed the final of the women as Kerrie Cartwright walked away with a 6-0, 6-1 decision over Danielle Thompson.
"Danielle played very well. She fought hard and it was a good match overall," said the 24-year-old Cartwright, who used her experience as a WTA ranked player to her advantage. 
Thompson, 22, concurred.
"I honestly would say that I don't think the scores matched the level of play," said Thompson, who is now in her senior year at Morgan State University. "I was rushing to end the point and she was hitting an extra ball and she won overall."
Although she got blanked in the first set, Thompson and Cartwright endured some long rally points. They did the same in the second set until Thompson avoided the sweep as she held serve at 4-0.
Then the rain came, halting play as both players cooled down. When they resumed play, Cartwright used her experience on the International Tennis Federation's tour where she's been able to secure her Women's Tennis Association's ranking, to end the drama.
She went on to hold serve and break Thompson to finish off the match. 
The tournament served as a trial for the men's Davis Cup and the ladies Fed Cup teams that will travel next year. The top four players in each division are being considered for the team section.
Joining the Newman brothers on the men's list are Kevin Major Jr, who got eliminated in the semifinal by Spencer Newman, and Philip Major Jr, who was ousted by Baker Newman.
On the ladies' side, Cartwright and Thompson are expected to be reunited with Simone Pratt from Grand Bahama and Larikah Russell, another Grand Bahamian based in New Providence. Cartwright pulled of her semi against Pratt, while Thompson advanced with a win against Larikah Russell in their semi.