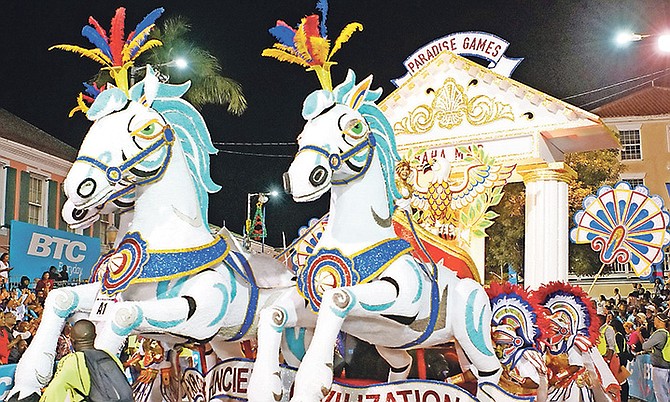 By KHRISNA RUSSELL
Deputy Chief Reporter
krussell@tribunemedia.net
Junkanoo organisers last night defended their decision to postpone the event from its 10pm Christmas Day start when they knew feared adverse weather would no longer hit the event.
Silbert Ferguson, President of the Junkanoo Corporation New Providence, confirmed members of the organisation voted to delay even though the 'all clear' on the weather had been given by the Meteorology Department nearly 17 hours ahead of the planned start of the parade.
"It was nobody's fault and the public needs to understand that," he said yesterday, hours ahead of the delayed event. "The weathermen can only report what they see and the JCNP can only react to what the weathermen say."
He also dispelled the notion that some Junkanoo groups were not ready to perform on the original date – Christmas Day at 10pm.
As news spread of the delayed parade on Sunday, social media was ablaze with criticisms directed at officials, mainly at Basil Dean, deputy director of the Department of Meteorology. He initially reported to Junkanoo officials that there were weather systems headed for the country bringing rain, which would affect the success of the parade. However, he later reported these conditions had cleared.
However, Mr Ferguson said despite this no one should be blamed for the decision to begin Junkanoo at 6pm yesterday.
He said this was the first time the JCNP had been faced with a situation like this one, adding that officials need to place the "onus" on themselves not to interfere with rules that are in place regardless of whether people are hurt by them.
Meanwhile, Youth Sports and Culture Minister Michael Pintard said he was not "entirely pleased" that the parade was delayed. But given the circumstances and the sequence of events, he said he understood the issues.
"On Monday morning, I received a call at 5.15 and it was the met office calling to say that all of the weather systems had fallen away and we had clear weather through Boxing Day and New Year's Day," Mr Ferguson said.
"I first made a call to the minister to advise him and then we convened a meeting with the Junkanoo leaders at 10am Monday morning.
"Now based on what we had discussed and told the groups it was going to be, everybody got that message and so everybody did what they had to do. Whether that meant that schedules were changed (or) people who were working had to change all of the people who had to prepare food for this parade that had to change, we had to change.
"The junkanooers felt that moving it up to 20 hours instead of the 12, if we had told the public yesterday (Monday) that it wasn't going to be no parade last night how you think they would have reacted? The same way. And so we thought it was better to say it early than to say it late."
He continued: "Well the 'all clear' sat well with the groups and this innuendo that the groups were not ready is nonsense. We have a date with them December 26 every year. Groups are always ready to go. They can't complete what you see out here now in one day. So the groups were ready. It was just a matter of mobilisation and getting the groups back intact.
"What we saw happen in the member groups was that some thought it was better if we go at 12.01 this morning (Tuesday) and some thought it would have been better if we go at 6pm today.
"All of the comments surrounding commerce on Bay Street have been discussed and taken into consideration and so our groups will start this parade at 6pm sharp today (Tuesday) and we anticipate that we will parade here until about 1 or 2 o'clock in the morning and make sure that Bay Street is free for commerce tomorrow morning," he also said.
Asked whether any organisation or individual should be blamed for the delay, Mr Ferguson said it is no one's fault.
"I mean it's a lesson for all of us and perhaps we take a deeper look at how we look at the 12 hour window before the parade (rule) because if you second guess yourself, you'll say we should have stayed with the 10 o'clock meeting for Monday morning rather than trying to be proactive, which I though the JCNP was being in pulling the time back to accommodate everybody and so that ended up being a decision that we probably have to revisit of whether we would interfere with the 12 hour rule."
According to Mr Ferguson, the JCNP began tracking the weather from Monday, December 18. At this point he said a cold front and rain were predicted for Christmas and Boxing Day.
"We had a 60 percent chance of water through the weekend into Christmas Day and Boxing Day and it was said that there were only small spots of clear windows for the parade and it just wasn't going to make it conducive for a parade. The earliest dry day that we saw associated with the weather patterns was going to be December 29. So there was a lot of information passing around that we will do the Boxing Day parade on January 1.
"Consequently we had a meeting on Thursday evening at the walkabout and we advised everybody that based on the preliminary reports of water in the forecast that we were going to convene a meeting on Saturday morning to start to plan the contingencies in the event that we had rain both Boxing Day and New Year's Day.
"We left that meeting on Thursday's walkabout to come here Saturday morning to consider the contingencies. In the contingencies, we planned that the first dry available time that we get, which would have been this coming weekend. We would have tried to put the parade on the 29th and then look at New Year's Day parade probably on the third or on the fourth. We left with that in mind. We had a weather meeting planned for 6pm Saturday.
"When we got to the weather meeting on Saturday we had received earlier reports in the morning from the Met Office, which was emailed to the JCNP advising we had clear weather for the Boxing Day Junkanoo Parade and only a 10 percent chance of rain.
"Well when the weather people came from the Met Office, they told us that we had showers for both Christmas Day and for the Boxing Day parade but we had a 10 percent chance of rain during the parade and it seemed roughly for about six to eight hours. We had rain that would have interrupted the mobilisation of the groups. If it is raining you can't do that. But it also said we would have rain showers at 6am this morning (Tuesday) so that would have dropped on the parade," Mr Ferguson said.
Moving forward, he said the JCNP would move away from interfering with the rules.
"In the case of inclement weather, the rules speak to inclement weather forever. If the winds are 20 knots and over we don't go and if we have 20 per cent or more chance of rain we don't go.
"Our job is once we visit what we are doing next year, we will just solidify our programme to make sure that those rules are tighter and I think we should put the onus on ourselves and not to interfere with the rules and leave them in place regardless if people get hurt by them.
"If the vendors had prepared all their food and the rain came down they would have lost hundreds of thousands of dollars and so trying to be proactive in trying to assist in that fashion and then we have clear weather, of course everybody is going to complain so we just have to take it as it comes."
For his part, Mr Pintard said the government intends to bring to junkanooers several aspects of parading that need consideration.
The ministry is expected to hold a conclave in January and discussions will focus on whether or not there will be one or two parades next year. Officials will also look at either remaining on Bay Street or relocating the parade to a new venue and whether it will be in best interests to allow the Junkanoo community to shoulder both the expenses of the parade and receive the revenue, along with becoming the promoters of the parade.
These matters were already signalled to the Junkanoo community who have so far been receptive, Mr Pintard said.