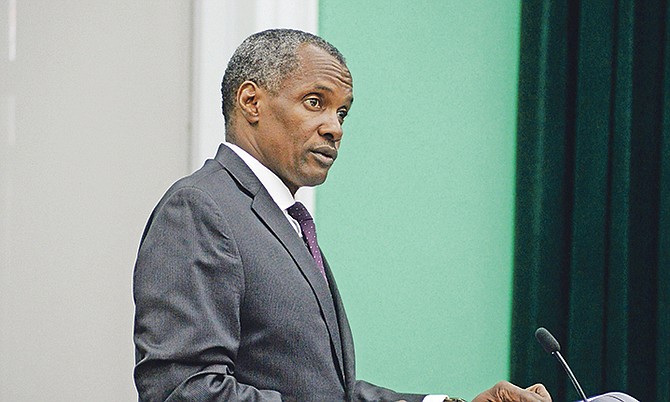 By KHRISNA RUSSELL
Deputy Chief Reporter
krussell@tribunemedia.net
THE government will investigate allegations regarding the standard of work at Baha Mar, Works Minister Desmond told The Tribune yesterday, following the resort's original developer Sarkis Izmirlian's massive law suit against China Construction America (CCA).
In the $2.25bn damages claim filed in the New York State Supreme Court on Sunday, not only does Mr Izmirlian accuse CCA of conducting "one of the largest construction-based frauds in this hemisphere," he also claims Baha Mar was used as a "massive training exercise" for young and inexperienced workers among other serious allegations.
In the claim, it is also alleged the Chinese contractor earned "tens of millions, if not hundreds of millions" more than it should as a result of uncorrected defects plus inflated and "sham" billings.
And the lawsuit also details numerous alleged construction defects that, if not caught, would have compromised the health and safety of thousands of tourists, hotel guests and Baha Mar staff. 
Asked pointedly about this aspect of Mr Izmirlian's suit and whether this was of concern to the Ministry of Works, Mr Bannister said: "Yes and we'll look at what the allegations are and we'll look at whatever has to be done and make appropriate decisions.
"I will tell you this, when we were last in power we had an independent engineer Mr Reece looking at the issues with respect to work and construction that was done at Baha Mar.
"So it was not simply the ministry, it was also independent outside highly experienced engineers and we anticipate that he would have done his work properly. So in addition to our people, he did his work appropriately.
"The government would have expected all professionals who were engaged by us to do their work properly."
Mr Bannister told The Tribune he was not surprised by Mr Izmirlian's latest move.
"I am never surprised. I am in public life now. Nothing that happens ever surprises me anymore. No I am not surprised. It's just that whenever anything comes up, we look at whatever it is and we will react and deal with it appropriately."
Meanwhile Robert Sands, Baha Mar's senior vice-president of government and external affairs, declined comment, saying this is a private matter between Mr Izmirlian and CCA.
It also appeared yesterday the Minnis administration was taking the same position as sources within the Attorney General's Office said this was not cause for concern from the government's perspective.
Another well-placed source within the AG's Office agreed this is a foreign action between civil parties, which does not make any allegations against the government.
Just last month, a local tabloid published reports that the resort had been operating on a temporary certificate of occupancy (TCO) because of alleged structural issues.
However Mr Bannister rejected this speculation, telling The Tribune at the time there was "absolutely" nothing concerning the structure that was a cause for concern.
The action, filed in the name of Mr Izmirlian's BML Properties vehicle, claims the Chinese state-owned construction firm deliberately concealed its intention to use Baha Mar as "a massive training exercise" that ultimately doomed the project to failure.
Besides alleging CCA's "real intent" was never to complete Baha Mar "on time and on budget," Mr Izmirlian and BML Properties also claim it falsified and misrepresented reports on the mega resort's construction progress and the size of its workforce.