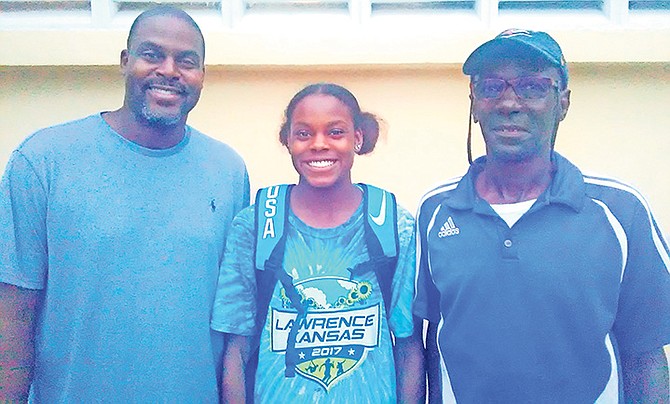 By BRENT STUBBS
Senior Sports Reporter
bstubbs@tribunemedia.net
TAKING a break from the chilly weather conditions in Dallas, Texas, American junior triple/long jump sensation Jasmine Moore said she's delighted to be in the sunny Bahamas.
And while here on vacation with her family, she said she couldn't pass up the opportunity to get in some training sessions with reputed Bahamian coach Peter Pratt.
"It's fine. I'm enjoying my vacation with my family and I came out here to train with coach Pratt," said Moore, who is making her second trip to the Bahamas to train with Pratt. "He's very good. We had a good practice today. I was able to work on some things that I hope will help me to get better when I get back and start competing next year."
Her goal is to make another national team for the United States and to eventually break another national record.
Arguably the most talented girls' jumper in the USA, Moore is coming off a bronze medal performance at the Pan American Junior Championships in Peru and second at the USA Junior National Championships in the triple jump.
"I want to be the best and in order to do that, I need to be trained by the best," said Moore, a 16-year-old 11th grader at Mansfield Lake Ridge High.
Pratt, who will hold his final workout with Moore today at the Thomas A Robinson Track and Field Stadium, said he first met Moore and her parents, Earl and Trinette, when he conducted a clinic in the USA and they have remained in contact ever since. "We've been doing some bounding drills and some jumping drills," Pratt pointed out. "She's looking good and has adjusted well to the training session. "So I'm hoping that she can improve and break another Texas record."
Moore said if there's anything about the Bahamas, it's the weather because it's about 40 degrees in Texas and she knows that all of her peers are envious of her right now.
More like this story