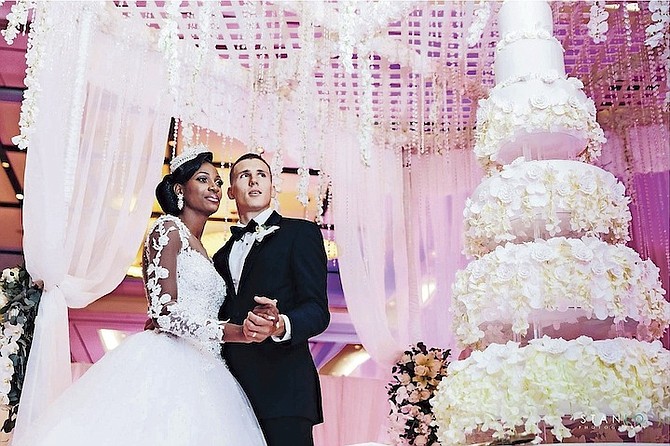 BAHAMIAN Golden Girl Shaunae Miller tied the knot on Saturday, marrying her college sweetheart Maicel Uibo, a decathlete from Estonia, in the Crown Ballroom at Atlantis, Paradise Island.
The officiant was Apostle J Rodney Roberts, of Five Porches Ministries, assisted by Prophetess Janice McKenzie, who had predicted that the Bahamian track star would win Olympic gold in 2016. The bride was given away by her father, Shaun Miller.
Captain Joel Stubbs, uncle of the bride and Bahamas Bodybuilding and Fitness Federation president, was one of the organists and the bridal party featured a number of track and field athletes. Several athletes attended the wedding, including veteran quarter-miler Chris 'Fireman' Brown and Andretti Bain with their wives.
The couple met while they attended the University of Georgia and Mr Uibo, 24, proposed to Ms Miller, 22, last year.
Shauntae Miller, sister of the bride, was the maid of honour. The bridesmaids were Kamaria Brown, Natoya Goule, Okola Jones, Tiffany Harris, Tiffany Townsend, Katrina Seymour (the Bahamian quarter-miler and hurdler) and Jessica Beard. Shaunece Miller, the youngest sister of the bride, was the junior bride and Arianna Deveaux was the flower girl.
Karl Saluri was the best man. The groomsman included Randon Higgs, Markus Leemet, Ashinia Miller, Shaun Miller (the bride's brother), Carl-Eric Uibo (the groom's brother). Curt Knowles Jr was the ring bearer.
It's not known if the couple will take up residence in Athens, Georgia, where the new Mrs Miller-Uibo has her training base as she prepares for the IAAF World Championships in August in London, England. In the 2015 championships, she took the silver medal in the 400m in Beijing, China. She celebrated her greatest moment on the track in Brazil when she dived across the finish line to edge out American Allyson Felix for the gold in the women's 400 metres at the Olympic Games in Rio de Janeiro, Brazil, in August.
Mr Uibo, who competed in a few local Bahamian meets before the wedding, will be heading to Europe to compete in their championships.
At the reception, Ejoma Jacozie served as the Master of Ceremonies. There was a beautiful nine-foot high cake made by Take A Bite Cakes.