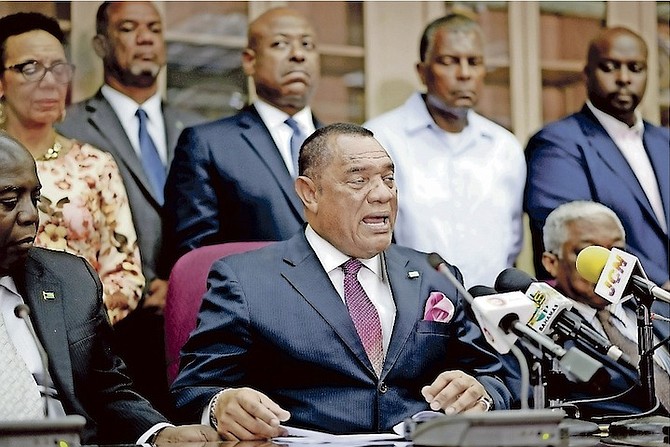 The government has consistently misled the public over the sale of Baha Mar and continues to do so, Malcom J Strachan says . . .
It's fitting that on Super Bowl Sunday, the Government, via our Attorney General, would continue with the Government's untruths on Baha Mar.
Go big, or go home, right!? Why not throw that 'Hail Mary' for old time's sake. To hell with the truth. Why let that get in the way of your "good story".
It's pathetic that seemingly intelligent people would still try to argue the Government's handling of this debacle. The Christie administration has failed, and continues to fail in this, and many, many other regards.
What the Attorney General was seeking to do, and failed horribly at it we might add, was deflect from the smoking gun that was dropped last week. Graeme Davis, president of Chow Tai Fook Enterprises (CTFE) Bahamian subsidiary, in a spectacular case of foot-in-mouth, exposed that our Prime Minister had once again misled the Bahamian people.
Perry Christie, you would recall, told a little tale a few months ago. He's been telling tales his whole life, we know, but this one was number 375 on Baha Mar. The last one was the biggest. Baha Mar has been sold! The Prime Minister had his usual flock of Cabinet ministers standing behind him that day, but now the visual makes so much sense. We encourage our readers to go back and rewatch/view the images again. You would see that a handful of ministers were not smiling. Some, in fact, looked dumbstruck, a look of disbelief. Now we know why. They were trying their best to tell us not to be fooled again, and we won't. Never again.
Last night the Attorney General issued a statement that does more to show how complicit and untrustworthy they have become. The issue that her office - actually the Office of the Prime Minister really should have been addressing - was whether or not there actually was a sale of the resort. A simple Yes or No would suffice.
Instead, we were treated to this:
"The Government of The Commonwealth of The Bahamas remains actively engaged in the advancement of the Baha Mar Resort development. As has been recently reported by the new developer, the resort is on course to be a great success for The Bahamas.
It is important to note that CTF Enterprise's Bahamian company, "CTF BM Operations Ltd", is a duly licensed entity incorporated under the laws of the Commonwealth of The Bahamas. The company is well-equipped and eager to undertake initiatives to ensure the successful opening and operation of the Baha Mar Resort by its target date of April 21st 2017.
CTF Enterprises is a world-class operator and owner of top-branded hotels worldwide, including Rosewood, and is involved with top casino brands around the world. It also operates iconic hotels under various brands in the United States and Europe.
To date, it has been reported that 15 contractors and 322 Bahamian employees have been engaged by CTF. It is anticipated that a total of 1,500 Bahamians will be engaged by April 2017.
CCA reports that to date there are nearly 100 Bahamian vendors and contractors and 500 employees involved in the Baha Mar completion. CCA also confirms that it has paid the CCA Bahamian contractors who had little or no hope of being paid in Delaware.
The Government continues to collaborate with CTF to secure maximum benefits for the Bahamian people. The National Training Agency has been actively involved in the recruitment process. On Tuesday, February 7th, 300 applicants from the National Training Agency will be interviewed. The interview process continues and it is anticipated that by the end of next week, 2,100 Bahamians will be interviewed for various levels of employment.
It has been confirmed that the 1,500 employees previously made redundant will be given the opportunity to be re-engaged during CTF's recruitment exercise on Wednesday February 8th through to Saturday February 11th.
The significant levels of investment made by CTF attest to the fact that investor-confidence in The Bahamas remains strong: our country is still a great place to invest.
The Government celebrates these major steps forward, knowing that the jobs and opportunities will have a major impact for many Bahamian families."
We opted to publish her statement in full for one reason, and one reason only. Look at it again and tell us if she actually said that the resort has been sold. With all the twisting and spinning in her statement, the Attorney General could not bring herself to contradict what Free National Movement leader Dr Hubert Minnis and Democratic National Alliance leader Branville McCartney have argued all week. The resort has not been sold, and the Government has misled the Bahamian people.
Our Attorney General, as one of the negotiators on this project, who has been to China more times than this country can afford to push for a deal, could not bring herself to utter those simple, little words.
So, ask yourselves: why would your Government push to have a resort opened in April, possibly only a month before the general election? Votes, and only votes.
If they cared about actually getting the resort opened before then, and have Bahamians back on the job with Baha Mar contributing to our economy, they would have engaged all bidders, most especially the project's original developer who had offered a superior offer to that of Chow Tai Fook. But our Government was clearly in bed with the Chinese all along. They worked their magic, and used all their might to remove him and throw the project into disarray.
So now that the Progressive Liberal Party (PLP) has done what they needed to do to satisfy their new Chinese masters, the Bahamian people have to ask themselves, on whose behalf can they truly say the PLP has been working? Certainly, not you or I. We hope, for their sakes, that their cronies have been well taken care of for their efforts. They have earned every red penny for selling out their country.
• Comments and responses to insight@tribunemedia.net