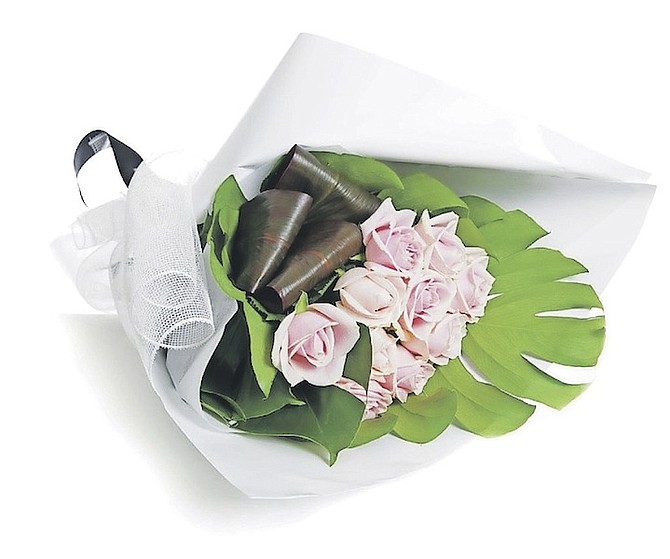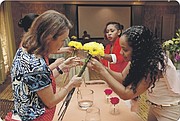 By ALESHA CADET
Tribune Features Reporter
acadet@tribunemedia.net
Valentine's Day is just around the corner, and all over the world people will be buying fancy flower arrangements for their loved ones.
While many have grown cynical about the day, citing its over-commercialisation, florist Kandice V R Cargill still believes it is a great opportunity to show your love in the most beautiful way.
"Flowers are godly reminders of all that is beautiful, alive and well in the world. Valentine's Day just happens to be the day that all of these expressions of love and beauty are highlighted," she told Tribune Woman.
Ms Cargill is the owner of the Kandice Hanna Creative flower boutique and styling company, which recently launched a new collection called "Tried & True".
The floral designs in this line, she explained, were inspired by her most loyal clients and supporters. 
Ms Cargill started specialising in floral arrangements in 2014 when she was approached by a local landscaping company to expand their garden centre into a flower shop to offer their clientele premium fresh-cut flowers.
"One of their top bosses had scoped out the Valentine's Day collection I had promoted that year and thought that I would do well and go further in the field. Until he had approached me, I had no idea that my side hustle would become my full-time hustle. I took him and his company up on their offer and dove head first into the deep end of the fresh-cut flower industry," she said.
With her birthday being February 15, it seemed only natural that she try her hand at Valentine's Day arrangements to make some extra money, she said.
Though on a much smaller and less experienced scale, it was a successful venture. Ms Cargill remembers being amazed at receiving orders throughout the year, just off the strength of that specific Valentine's Day collection.
After bringing a fresh, new look to the landscaping company that initially contracted her, Ms Cargill branched out on her own and launched Kandice Hanna Creative – a private studio and home-based flower boutique that also provides visual merchandising, event designing and branding. Since launching, however, her work has largely become about her trendy floral designs that continue to grow in popularity.
Her designs usually feature heavy floral content, which she defines as more grouped flowers for impact, less leaves for distraction. She tends to use more tropical leaves, flat and rich in colour.
Ms Cargill said she is always very mindful of things like balance, proportion, composition, tension, repetition, rhythm, texture, space, form and line. Her products, she said, are always deliberately artful, stylish and on-trend.
For the Tried & True collection, for which roses are the primary flower, Ms Cargill said she made sure to also include arrangements for clients who are not too fond of the flower of love. It also features some masculine compositions for male recipients.
And Ms Cargill teamed up with The Boutique Cake to offer her clients chocolate-dipped strawberries, French macaroons, and stylish mini cakes to complete the presentation of her arrangements.
"I love that I create living art every day and live life at my own pace. In this business I've learned so much about the names, nature and origin of flowers, the industries and the interests of those in need of flowers, and most importantly, how to run a successful small business mindful of the numbers that matter. This flower business has provided the most profitable outlet for my creativity. I enjoy the challenge of working out the mechanics of a new design, perfecting the end product visually, and fine-tuning it for marketability and profitability," said Ms Cargill.
By far the most pleasant surprise for her has been working with the yachting industry. With the help of social media and referrals, she is now on first-name basis with many chief stewards and captains who reach out to her when they need floral décor for their luxury vessels.
"I prefer styling yacht interiors and residences the most. I love crafting that perfect piece that brings new energy to the entire space. I'm adding a dose of pretty every time, reminding the audience, in case they forgot, that this is the Bahamas. My clients and other fans of my work tell me that they love my designs because they're so modern and different. My yacht clients are always so pleasantly surprised, some saying that it's among the best they've ever purchased around the world. I think what's most appreciated is my selection or combination of flowers and leaves and composition," she said.
Her goal going forward is to revive what she sees as a dying or largely neglected industry by continuously creating attention-grabbing arrangements for everyday presentation and special occasions.
"I intend to host classes to educate more people, particularly Millennials, to garner interest in this potentially lucrative industry and workshops to share the joy of flower arranging, creating more flower lovers in the market," she said.