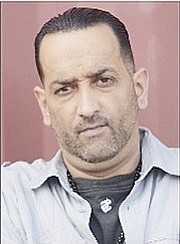 By Inigo 'Naughty' Zenicazelaya
LET'S cut right to the chase this week, Tom Brady is the greatest quarterback of all time!
There is no denying 5 Lombardi Trophies in 7 Super Bowls.
Yes an asterix may have to be affixed to a few of them but this, his latest Super Bowl conquest, was all Tom Brady, fair and square.
I know as some of you read, the thought is going through your minds, "Naughty is settling a bet, he lost obviously, and now he has to wax poetic about Brady."
Nope, no practical joke lying behind this one.
Just a modicum of respect for a player who deserves it.
Throw the record breaking stats and conspiracies out of the window, Brady's performance in Super Bowl 51 was epic.
As I watched him walking in to the locker room at halftime, down by 18 points, I noticed a certain look in his eye, I said to myself, if I didn't know better, he's looking to come all the way back in the second half and win this thing.
Then I watched in amazement as he brought my words to life in the second half, willing his teammates to victory.
Here's where I knew Brady had finally earned my respect. When the Patriots scored to bring the score to 28-20 in favour of Atlanta, I found myself after 17 years actually rooting for Brady to pull it off.
And he did in most impressive fashion, therefore I must tip my hat to him.
I always give credit where it's due, and this case is no exception.
Brady was surgeon-like, dissecting the Atlanta defence methodically and eventually wearing it down and rendering it useless.
Tom Brady, with the heart of a champion, put his team on his back and willed them to win the Super Bowl, again.
Malcom X once said " the respect that you receive is the respect that you earn."
Well, as of Sunday night, Brady has more than earned my respect.
With Brady's fifth Lombardi Trophy, no one else has 5, he's now the watermark.
Just as NBA stars chase the 6 rings posted by his 'Airness' Michael Jordan, NFL stars, quarterbacks especially, now have an even loftier number to chase than the 4 posted by Bradshaw and Montana, which seemed unreachable until Sunday.
To best sum up my feelings toward Tom Brady, I will quote Vince Vaughn's character Wes Mantooth in the Anchorman movie.
"I hate you Ron Burgundy.....but damn it I respect you."
Now as far as the Patriots being the greatest team of all time, see next week's column, it's highly debatable. The Patriots, the jury's still out on them.
• Naughty presents 'Mischief and Mayhem in da AM' from 6am to 10am, Monday to Friday and 'The Press Box' sports talk show on Sunday from 10am to 1pm, on KISS FM 96.1. Comments and questions to naughty@tribunemedia.net