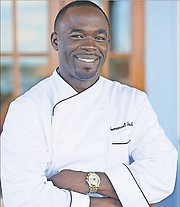 PELICAN Bay was one of a few Grand Bahama hotels which kept its doors open throughout and after the passage of Hurricane Matthew last October. In working to become the leading hotelier on the island for business guest and events, the boutique hotel also strives to give its visiting tourists a superior and happy experience.
For Valentine's Day, the hotel is offering its guests a first Scavenger Hunt in which the winners will help prepare their three-course dinner for two with Chef Emmanuel, Sabor and Conventions Head Chef.
Through a renewed focus on social media, guests can interact with the property on a greater level as they celebrate Valentine's Day. Pelican Bay recently launched its new Instagram page and as part of this year's celebration of love, one couple will have the chance to win a free night's stay at the hotel as well as personally made interactive dinner for two with Chef Emmanuel.
"I think it should be fun to have this couple in the kitchen with me," said Chef Emmanuel. "I'm going to make them participate too - there's nothing like eating food that's been prepared by your loved one."
Contestants will have until February 10 to enter. To become eligible, guests must first follow the hotel chain @PelicanBayBahamas on Instagram, then take and post pictures on Instagram using the hashtag #HappyPelican. The photos need to feature three things: picture with a front desk agents; a photo with a any entrée at Sabor and then a final cocktail shot at Bones Bar.
Photos must tag the resort and then a winner will be chosen.
"Pelican Bay Hotel is always about giving happiness but this Valentine's Day we want to share the love with this fun Scavenger Hunt," said Della Bridgewater, operations manager.
"We are a small property with a lot to offer from our waterside rooms and happy meetings, to amazing drinks at Bones and tasty food at our Sabor Restaurant. But many only know the hotel side, we hope this hunt for love will make them see the work we've been doing to improve our hotel too."