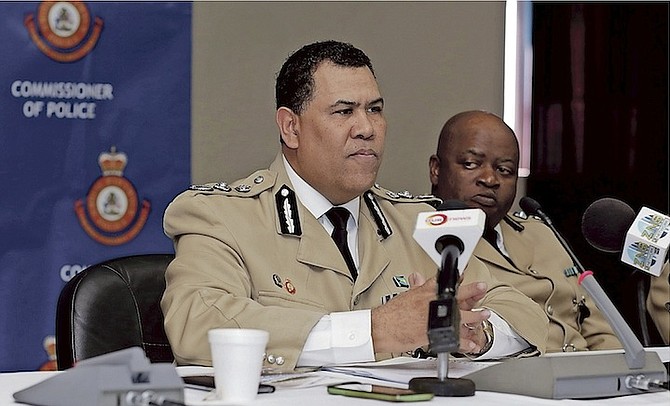 By SANCHESKA DORSETT
Tribune Staff Reporter
sdorsett@tribunemedia.net
DESPITE the country recording 13 homicides in 13 days, Commissioner of Police Ellison Greenslade said the Bahamas is not in a state of "crisis" and the average Bahamian can continue to "go about their day as normal day" without the fear of being attacked.
At a press conference at police headquarters on Monday after a weekend of "carnage", Commissioner Greenslade said the only solution to the country's crime problem is to "keep prolific offenders behind bars". He said the Royal Bahamas Police Force (RBPF) is not considering implementing a curfew or "locking down certain neighbourhoods" and the suggestion to do so is "emotional and makes no sense".
His comments came hours after the country recorded its 27th homicide for the year. Seven people have been killed since Friday.
On Monday afternoon, police also reported that a man was stabbed outside an establishment on Nassau Street while two men were shot while in the area of Ross Corner. These victims were said to be in stable condition in hospital.
Commissioner Greenslade said it is simply not enough for people to "point the finger at the police in times of crisis" yet refuse to "manage their homes" or assist the police in catching wanted persons.
"It is a falsehood to tell the Bahamian public and the world at large that the Bahamas is in crisis, that is nonsense," he said. "Every well meaning citizen in this country is well aware that these young people that are unfortunately dying and the young people that are the perpetrators, these are people that have fallen though the cracks of our society and they did not remain in school. The ones who did, when they got out of school, chose to associate with the wrong type of company and this is 'tit for tat, you touch my boy I touch your boy' type of thing."
He added: "I do not want the public to form the impression you can't drive your car and go to work, or you can't drive your car to go to church, or you can't drive your car and go to the grocery store. We have a problem, let's not kid ourselves and that problem is prolific offenders that are in and out of the system who are not prepared to not live a life of crime....
"This country is not at a stage where the average decent citizen has to be concerned about being attacked," Commissioner Greenslade added. "Do we have cases were someone is robbed and where an innocent person dies, yes. But I am telling you year on year, those who are prepared to look at the facts can tell you that no one is interested in harming persons who go about their normal daily activity.
"Bahamians can go about their daily lives as normal, I don't perceive that any Bahamian citizen who is going about their business on a daily basis is going to have any issues. It is a very bad development in this country but this is not something that happened overnight."
He also said there are far too many "healthy bodied prolific offenders in our country who have no hesitation in causing harm to other people" and until these people are "put away for good" the crime situation will never improve. When asked if the RBPF is considering implementing a curfew in high crime areas, Commissioner Greenslade said "absolutely not".
"The only solution (to crime) is when these people are arrested and charged, that we allow due process and natural justice and we put them before the courts. I believe firmly as the commissioner that they should remain incarcerated based upon the egregious crimes they have committed," Commissioner Greenslade said.
"We have to ensure that people that walk around with assault weapons and other variations of weapons, that have raped people, that have attempted to rape people, that have killed people that have attempted to murder people they should remain, I will make no apology, they should remain incarcerated and have their day in court. If we continue he way we are going we will continue to chase our tails.
"People are getting emotional and saying things that sound good to say - a curfew is not a good idea. I am going to say we should be careful...You can not ask the commissioner, in a democracy, with any intelligence to go into a community and just hit people over the head. It doesn't work like that, it makes absolutely no sense. I am telling you again, please listen to me. We know who the man is that shot the person, we have arrested him and taken him to court. Why are you continuing to ask me the same question? Why am I having to arrest these men again?
"We are kidding ourselves. Yes, some drastic things should happen but the question should not be how drastic is the approach by the police. How much more drastic would you wish us to be? We don't sleep at night, our families hardly see us, everything we do we show you."
Commissioner Greenslade also said police are still looking for several persons in connection with this weekend's homicides. Anyone with information on any of these murders is asked to contact police at 911 or 919, the Central Detective Unit at 502-9991 or Crime Stoppers anonymously at 328-TIPS.