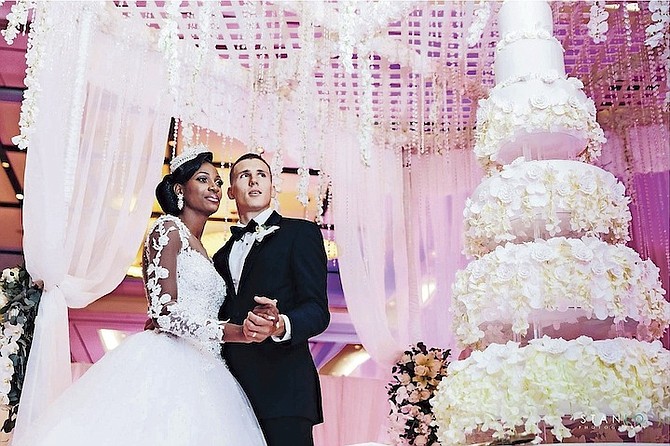 By BRENT STUBBS
Senior Sports Reporter
bstubbs@tribunemedia.net
WHEN 'Golden Girl' Shaunae Miller-Uibo took the time to walk down the aisle to marry her college sweetheart Maicel Uibo on February 4 at Atlantis, Paradise Island, there was some concern about how ready she would be for her indoor season opener a week later in New York.
On Saturday, February 11, the 2016 Olympic Games' 400 metre gold medallist answered the question with a stunning victory in the 300m at the Millrose Games, running the third fastest time in history as she lowered her national record to 35.71 seconds to repeat as champion.
"First of all, I just want to thank God for such an amazing race," Miller-Uibo told The Tribune. "Everything went well and I'm so blessed for that.
"The race felt amazing actually after the wedding. I know a lot of people were thinking that maybe I would get tired or that I would be a little exhausted after the wedding, but we haven't taken off any time from practice and it showed that I've been training pretty hard for it."
Miller-Uibo, 22, said it showed that her training prior to taking a break for the wedding was right on par and her performance was in no way affected as she went on to post the third fastest time in history, winning the 300m.
"We were not really gunning for a time," she said. "We just wanted to go out there and have some fun, just to see where we're at. I think we're all pretty pleased. My coaches have been doing an extremely good job with me so far and so I was really excited to see how well I would do."
This was the only event that Miller would compete in during the indoor season. She admitted hat it's not her forte, but she used it as a fun event to get ready for outdoors.
"We can't wait to see what we will run in a 200 and 400," she projected. "It's looking pretty good for us doubling this year. I hope all goes well with that. It's going to be an exciting year for us."
Miller-Uibo, coming off her diving victory over American Allyson Felix for the gold at the Olympics in Rio de Janeiro, Brazil in August, said her goal is to attempt the 200/400m double this year as she prepares for the IAAF World Championships in London, England in August.
There was some controversy about her attempt at the double in Rio, but she has gone on record to say that she wants to go after the feat in London.
The challenge will be the schedule in that the heats for the 200m will be the first event on day six, August 9 at 7:05pm with the final of the 400m the last event at 9:50 pm.
The good thing is that if Miller-Uibo goes for the double, she will have a day off after running the semi-final of the 400m on day 4 on August 7 at 8:55pm.