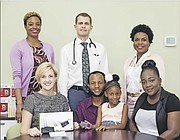 SIX-year-old diabetic Kaylee Hanchell will be able to have her blood sugar levels diagnosed at home after the donation of a life saving device by CIBC FirstCaribbean International Bank.
CIBC donated a Dexcom Continuous Glucose Monitoring System to ACE Diabetes, a local diabetes association, through the The Family Medicine Centre, who selected Kaylee and her parents, Kareem and Shelisha Hanchell, to receive the system.
The advanced glucose monitoring system is a life-saving diabetic device that will help Kaylee, who was diagnosed with diabetes at three, as it more accurately monitors and predicts blood sugar levels.
"It was a sad day when my wife and I learned that Kaylee was diabetic; we knew we had to do whatever was necessary to ensure that Kaylee remains happy and healthy, which was now dependent on her blood sugar levels," said Kareem Hanchell. "Our cost of living went up due to bills for medication, hospital visits and healthy food. CIBC FirstCaribbean and all parties involved have definitely been a blessing to us because we would not be able to afford this advanced blood sugar testing system on our own, and we feel so happy that we are now able to monitor Kaylee's glucose levels right at home."
Dr Graham Cates, president of ACE Diabetes, said "When we look at the world overall, the Bahamas is leading in the prevalence of diabetes in the entire world." ACE Diabetes was established to address the overwhelming need in the Bahamas for diabetes awareness and daily self-management education of the illness.
Dr Cates and Nurse Specialist Practitioner Anita Cates, of the Family Medicine Centre, have been guiding Kaylee and her parents through the process of managing her diabetes since she was diagnosed.
Atlantis Paradise Resort also joined CIBC in this initiative by donating a two-month supply of sensors to be used with the Dexcom machine with proceeds donated by ACE Diabetes.
"Our community assistance programmes meet many different needs. It is always a little more heart-warming when we can help the younger ones," said Maya Nottage, marketing manager for CIBC FirstCaribbean.