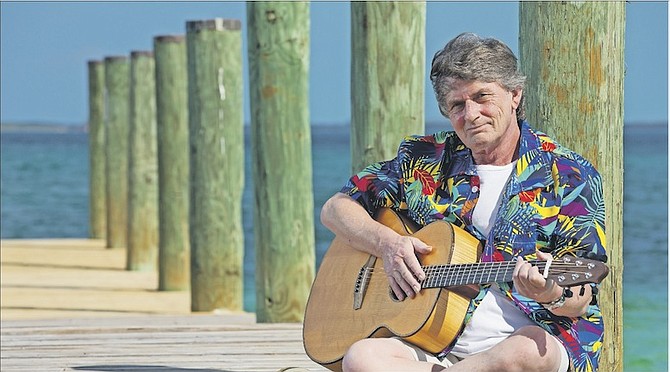 He has sold more than 20 million records worldwide and won numerous awards. His move to the Bahamas was supposed to signal his retirement, but the composer of the famous "Exorcist" theme tells Cara Hunt how the beautiful island surroundings have reignited his creative passion, how Rose Island almost cost him his Olympics call and about the mysteries of Nassau traffic.
Mike Oldfield is a world-famous musician and composer who has won multiple awards, provided the main theme for the horror classic "The Exorcist" and performed at the London Olympics.
But all that is a world away from the relaxed life the English recording artist now enjoys at his Eastern Road home.
Although the 63-year-old originally moved to Nassau about a decade ago to retire, the musical genius has found the beauty and tranquillity of island living has helped his creative juices to continue to flow.
Today, he keeps himself busy in his home recording studio. That is, of course, when he is not indulging in his passion for sailing, playing with the two huge Potcake dogs he recently adopted from the Bahamas Humane Society or fighting traffic to drop off his two sons, Jake and Eugene, at St Andrew's School.
"Working here in this environment has helped. It's just the colours and it's paradise; it makes working easier. A lot of Bahamians may not realise just how grey it is in Europe in the winter. It is, in winter, paradise here," he told Tribune Weekend.
"I was living in England and was really depressed. One whole summer I was only able to sit in the garden for half an hour. So I went first of all to Spain and then to the south of France."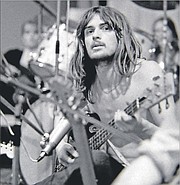 While there, he got his day skipper boat licence and met an agent who showed him a brochure for the Grand Bahama Yacht Club.
"It was rainy and cold again, so we decided to see what it was like and we landed in Freeport. I saw the Yacht Club and thought, 'This is it. This is what I have been looking for,' and I bought a house in Grand Bahama," he said.
However, as much as he enjoyed life in Grand Bahama, he fell in love with Nassau when he visited on the way back to Freeport after a sailing trip to Fort Lauderdale.
"We saw Nassau and I said, 'Oh, this is even better.' I loved Grand Bahama, but Nassau seemed more alive and more populated."
He said his current home on the Eastern Road just ticked all of his boxes. It allows him space for a recording studio, a dock for his boat, and the perfect environment in which to raise his kids. Being situated on top of a hill also helps his internet connection, he joked.
"The very good thing about this house is the internet connection is good and I conduct sessions from here. I don't really have to travel, which is great because I don't like to travel anymore. I travelled non-stop for 30 to 40 years. For the last album when I moved here I had an old-fashioned satellite dish with a very slow internet connection, so I can be connected even when the cable is out. I actually delivered the last album by satellite. It took about three days to send it. I came here to retire, but I just keep working," he said.
Mr Oldfield is best known for his "Tubular Bells" album. The record, an hour-long masterpiece which features him playing multiple instruments, was released in 1973 when he was just 20. The record helped launch Richard Branson's Virgin Records and became a hit in America after its opening was used as the theme for the film "The Exorcist".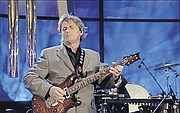 Signature work
And now, more than 40 years later, he is about to embark on the album's fourth incarnation.
"I am working on the fourth version. It is going to be something different, like a multimedia experience. Like an application it will have all kinds of goodies in it, so this is the next stage," he said. "I call it my advanced music player; it was designed with a software and code writer."
Mr Oldfield explained that he has revisited "Tubular Bells" time and again because it is his signature work.
"The thing is that it is a brand name," he said. "I could release the same music under a different name and it wouldn't get the same attention. It is a really lucky situation to be in."
Among the variations of the popular piece is a "Tubular Bells" for schools, which he composed at the request of the headmaster at St Andrew's.
"The headmaster asked me to do something for the school," he explained. "So I did a simple arrangement that one student could play, and I worked very closely with the school and they found one student who could play it. They decided to do a premiere at the school and I had the idea to invite Richard Branson. He was delighted to come over. He spent the night here and we played some music, drank some champagne. Some of the people at the school were surprised to see him there for sure," he said.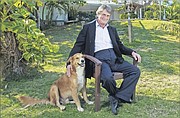 Mr Oldfield noted that there is still a relevance to the music that continues four decades later.
"It does seem like people keep discovering 'Tubular Bells' because there is so much in it. It's not like a three-minute pop song. It's a 45- or 50-minute piece of instrumental music, there are so many different parts of it, so they will discover all the different parts."
If "Tubular Bells" is his signature musical creation, his performance at the opening ceremony of the 2012 London Olympics is the career highlight he is most proud of. And as he told Tribune Weekend, it was a performance that almost didn't happen.
"Never in a million years did I think that I would be asked," he said. "It was in 2011 that I got the call from my record label that the famous film producer Danny Boyle is going to ask you to be a part of the ceremony. I got the e-mail and it said that he will call you. I didn't know what to do, I was like a cat on a hot tin roof. So I got on my little boat and decided to go to Rose Island, and I had this great idea that I would go around Rose Island, not realising that Rose Island is 18 miles long, which is like 36 miles round trip. I was out there thinking, 'It has to come to an end soon because Danny Boyle is going to call me'. It was just as far to go back as it was to go back around and I finally got to the end and there was a huge sand bar and I thought, 'I'll get stuck in the sand bar, I'll never get the call'," he said.
Mike Oldfield has had more than 30 charting albums and 25 charting singles on the British charts and many more around the world.
They include:
1970s
• Tubular Bells (1973)
• Hergest Ridge (1974)
• Ommadawn (1975)
• Incantations (1978)
• Platinum (1979)
1980s
• QE2 (1980)
• Five Miles Out (1982)
• Crises (1983)
• Discovery (1984)
• The Killing Fields (1984)
• Islands (1987)
• Earth Moving (1989)
1990s
• Amarok (1990)
• Heaven's Open (1991)
• Tubular Bells II (1992)
• The Songs of Distant Earth (1994)
• Voyager (1996)
• Tubular Bells III (1998)
• Guitars (1999)
• The Millennium Bell (1999)
2000s
• Tr3s Lunas (2002)
• Tubular Bells 2003 (2003)
• Light + Shade (2005)
• Music of the Spheres (2008)
• Man on the Rocks (2014)
• Return to Ommadawn (2017)
Although Mr Oldfield considers himself primarily a guitarist, he has played more than 40 distinct and different instruments on record, including:
• A wide variety of electric and acoustic six-string guitars and bass guitars (plus electric sitar and guitar synthesiser)
• Other fretted instruments (banjo, mandolin, bouzouki, ukulele, Chapman Stick)
• Keyboards (piano, organ, assorted synthesisers, spinet),
• Electronic instruments (Fairlight CMI plus other digital samplers and sequencers; assorted drum programmes, vocoder, software synthesisers)
• Wind instruments (flageolet, recorder, penny and bass whistles, Northumbrian bagpipes)
• Free-reed instruments (accordion, melodica)
• String instruments (violin, harp, psaltery)
• Unpitched percussion (including bodhrán, African drums, timpani, rhythm sticks, tambourine, shaker, cabasa)
• Tuned percussion (tubular bells, glockenspiel, marimba, gong, sleigh bells, bell tree, Rototoms, Simmons electronic drums, triangle)
• Plucked idiophones (kalimba, jaw harp)
• Occasional found instruments (such as nutcrackers)
"And so I had to go around the sand bar. But I got back finally and ran up to the house and the phone rang just then. And so I very nearly didn't get the job because I didn't know how big Rose Island was! Anyway, (Danny Boyle) was great. He came here and back in one day. I picked him up from the airport, we sat down in my studio and he played me a video that was a pre-vid of the ceremony. It had things like James Bond in it and he said this is the bit where the Queen is going to jump out of the helicopter and there will be hundreds of Mary Poppins coming down. He had seen a show I had done down in London and wanted me to do something similar. We sat down for about an hour and he was catching the 10 o'clock flight back. We had a few hours to spare and on the way to the airport I took him to see Atlantis. He went back and I got to work straight away."
Olympic fanfare
The first thing he wrote was the fanfare. "That fanfare became the Olympic fanfare. When the Queen opened the Games it was my fanfare. I got 17 minutes out of an hour, quite a big chunk. It was just spectacular; it was just a high spot in my life," said Mr Oldfield.
"I sometimes still have to pinch myself that that really happened. And that every part of it was a success; all the performers they just gave it all 100 per cent. A lot of people were sneering at it before: they didn't like the garden, they thought it looked like the Teletubbies. There were about five to ten thousand performers and we really just socked it to them. It was a triumph.
"I don't think anything will ever compare and it changed the way people think of me. My music had been deemed to be very old-fashioned; no one makes music like that any more. The current album which has just come out is like a rebirth. This handmade instrumental music had gone out of fashion but it has been very well received," he said.
"My music has become fashionable again. People are willing to spend the time listening to instrumental music, not someone just twerking, but an artist who can play and has created something beautiful," he said.
Mr Oldfield says he is very pleased with the new album, "Return to Ommadawn", which features a blend of Celtic and African music.
"The first three albums starting in 1973, they were all handmade pieces of music. Then in the late 70s they became to me a disaster. It was the advent of what they called punk rock, which to me was just these very skinny guys shouting. For some reason the music industry and the press thought that this was wonderful," he said.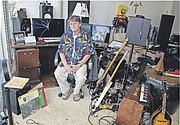 "I thought they had all gone mad, and even my own record company lost interest in my music. So I had to reinvent myself, I suppose. I started writing shorter pieces and I started writing songs. I had some success in the 80s and some are songs that people still listen to today. I had to learn how to write songs. But it is only since the Olympic Games that I have felt that is all right to make music the way that I used to way back in the beginning, with a human touch on everything."
And he hopes a new generation will discover and enjoy his music.
"It is a very different experience if you have never heard this music before," he said. "If you like classical music, you will be more open to it. You're not going to enjoy it if you like Top 20 pop or something like. But if someone wanted to try it they just have to be open to something different to listen to. There is a lot to it."
When it comes to his own musical tastes, he admits that he does not pay attention to music when he is not recording.
"I get asked the question, 'What do you listen to?' and the answer is, 'I make music, I am not an expert on musicians.' I don't listen to anything unless it's by chance or there is some reason to listen to it, because when you are constantly making music, when you are not making music the last thing you want to do is listen to it. Listen to the sounds around us – that to me is relaxation and music," he said.
However, when he is in the studio, he said the music takes him over.
"I wouldn't say it's when I am happiest. It would be more accurate to say I lose myself and I become the music. The time when it works best is when I am interfering with it as least as possible. Because I learned how to play when I was very young I am as good a guitarist now as I was when I was 13. I don't have to think about it when I am doing it. I can put all my heart and soul into the end result and the instrument is just the vehicle."
He said that is probably how it is with any creative person.
"You don't have to think about it. It's like the centipede who is asked, 'How do you walk on so many legs?' and then he could never walk again, because he started thinking about it."
School traffic
One of his favourite creations is "Amarok" – an album he created in 1990 which was originally conceived as an angry protest record, but which he feels has was not as well received as he would have liked.
" 'Amarok' means wolf in some Northern European language; it is something else not for beginners. It is so just crazy, but crazy enough to be fascinating. There are all kinds of things in it. I decided to make music with my tool box, so I used my hammer and my wrench. Then it has African drummers on top of it and then it has a Margaret Thatcher speech. It has a 500-member choir singing and then there will be footsteps. It was something people either love or don't get," he explained.
"It's not music for entertainment but other reasons. If you were to compare it to a painting it would not be a peaceful landscape. I fell out with Richard Branson at the time and so I had the horn section spelling out a rude message to him in Morse code, but now we laugh about it."
Another thing he is passionate about is promoting the Bahamas abroad.
"In my interview for permanent residency they asked me what could I do for the Bahamas. I told them I can promote tourism. I often do interviews and press interviews all over Europe, including photos, especially when an album is coming out, and they always ask me about the Bahamas. There is a piece coming out in the Daily Mail on me and five million people will see that, and if one in a thousand sees that and decides to bring their family..."
"I'd like to contribute. I do not want to sit here and not give anything. It is what I promised in return for the honour and privilege of having permanent residency. I love the Bahamian people – the man on the street, the woman on the street. Bahamians are some of the nicest people in the world, and I am very well travelled. I love the culture, the Junkanoo, the colours," he said.
"No one really knows who I am here; they leave me alone. Bahamas people are not like that; they are not nosy and they are genuinely nice. I would not want to live in a gated community. I feel like I live along the people and I feel protected; it's lovely."
He also feels a connection to most Bahamians who have to endure early morning traffic, particularly as he does the school run.
"It's one of life's great mysteries. I cannot understand why coming back from school (there is traffic); it doesn't make any sense. One day everyone is on the road and it takes me one hour to get back, and the next day there is nobody. Where have they all gone?
"I go past the prison and pick up the lights near Fox Hill. It has taken me about two years to work it out, but there are ways and little rat runs you can take to avoid the traffic," he said.