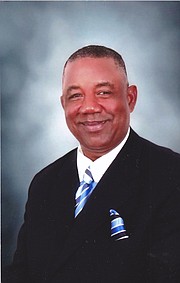 By DENISE MAYCOCK
Tribune Freeport Reporter
dmaycock@tribunemedia.net
DONALD Mortimer, a well-known plumbing contractor, says he intends to campaign and run as an independent candidate for Central Grand Bahama in the upcoming 2017 general elections.
Mr Mortimer believes that he can better represent constituents and make a difference in the constituency where he has lived for the past 30 years.

"With God's help I know I will do well," he said. "I am running because I live in the constituency and I think I can do a better job; I know I can make a difference in Central."
Some of his priorities are the high unemployment among the youth and the wellbeing of the elderly. "I am concerned about lack of employment for our young people … and I strongly think that more needs to be done to assist our senior citizens who are most vulnerable in society," he said.
Mr Mortimer said it is important to invest in the youth because they are the future generation of the country. He believes that too many young people are unemployed. "We need to ensure that are young people have the opportunity for a better way of life," said the contractor, who plans to unveil his platform in the coming weeks.
While Mr Mortimer is not affiliated with any party, he thinks that an independent candidate is no different from any other candidate in the Free National Movement (FNM), Progressive Liberal Party (PLP) or Democratic National Alliance.

"Either you are going to be a good working member of Parliament, or not. I am prepared to do what I can to help Bahamians, and do what God allows me to do for my constituency," he said. "I have been a plumber contractor for many years in Grand Bahama community and I chose to run in Central because … I know the area and I know a lot of the people who I want to support me."
The PLP has ratified Senator Julian Russell and the FNM has ratified architect and businessman Iram Lewis as respective candidates for Central Grand Bahama.
Neko Grant, of the FNM, has represented the constituency for the past 24 years. Last August, Mr Grant announced his retirement from frontline politics.