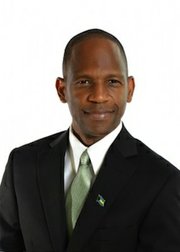 By KHRISNA VIRGIL
Deputy Chief Reporter
kvirgil@tribunemedia.net
AS frustrated Bahamians continue to lament being turned away from voter registration stations, Democratic National Alliance Deputy Leader Chris Mortimer yesterday threatened to take action that will "compel" Parliamentary Commissioner Sherlyn Hall to ensure everyone is allowed their right to register.
He said although the party hasn't defined what this action will be, it could involve a demonstration at the Parliamentary Registration Department on Farrington Road or a decision to take legal action against Mr Hall and his department for infringing upon the rights of Bahamians to register to vote.
This comes as reports reached The Tribune yesterday that a student from Abaco, who was headed back to college overseas, was not allowed to register to vote at a registration station in the Mall at Marathon on Tuesday night.
According to a relative of the student who did not want to be named, the woman tried to register in Abaco while there for a ten-day holiday from school, but was unable to register on two separate instances on that island.
On the student's first attempt she was told that there were no voter's cards in Abaco because officials in Nassau hadn't sent the documents, The Tribune was told. Officials there told her to return when offices opened following the Christmas Day and Boxing Day holidays, she said. When she did return, the offices were closed.
So she decided to complete the process in Nassau.
"Before going to the mall I called and was told that they would be registering people until 8pm," the student's relative said yesterday.
"So we got there at about five minutes to seven and went to the lady and gave her (the student's) passport. The lady said 'we are done for the night' and she said 'but I am travelling tomorrow to school.' "Without making eye contact, she told (us) to talk to 'talk to that lady over there'. So we went to that lady and (the student) said 'excuse me ma'am I am being told to speak to you, but I am travelling tomorrow to go to school and I need to register.' That lady never gave eye contact, she looked back at the one that sent us to her and said take her passport. So she took the passport, we took the picture and we waited.
"And as we were sitting there waiting the lady that I was sitting next to said that she came at 4.45pm and they told her they were doing a lunch break so she had to come back at 5.30 or 6pm. The three people ahead of me said we were lucky because they came at 6pm and they were told that they weren't taking anymore for the night."
She continued: "I counted the people there and seven of them were waiting. There are three people sitting at the desk one writing, only one. So we sat there, we waited.
"When it was my (relative's) turn to register the lady said 'you don't live here and you can't register here.'
"Now if she had said to since you are from the island you have to go to the Parliamentary Registration Department and not an outlet that would make sense. But she didn't say that. She just said she couldn't do it there."
According to the relative, the student was allowed to register at the Parliamentary Registration Department on Farrington Road yesterday morning before heading back overseas. This was her fourth attempt.
For his part, Mr Mortimer said the denial of the opportunity to register to vote over a choice of clothing is "ignorance".
"There is nothing that precludes people that way," he said in response to questions from The Tribune. "There is no dress code requirement to register and quite honestly I think it astounds all of us why all of a sudden the parliamentary commissioner would issue something that has no basis.
"My take on it is it can only be some false sense of his own personal belief in what is right and what is not right for him to make some sort of dictation or declaration that women dressed in a certain way cannot register. It is erroneous and I think on behalf of the party our stand point is it needs to be changed immediately."
He added: "People are guaranteed the right to vote under our Constitution. It speaks nothing to dress code. If he doesn't comply with the law we will find other actions in which we can compel him to make sure that people are allowed the right to register to vote."
Asked to clarify this, he responded: "We haven't defined what those actions are going to be. We may show up on his doorstep with our party members. We may decide that we may file some sort of action if we have to. But we are not going to allow anybody to deny people the right to vote. Not in this Bahamas."
Last week, a pregnant woman who did not want to be identified told The Tribune she was told by registration officials at the Elizabeth Estates Post Office that she would not be allowed to register to vote on separate occasions because of what she was wearing at the time.
On her second attempt she went into the post office wearing an ankle length maxi dress, but was still not permitted to begin the process.
Returning for a third try, the expectant mother wore a jacket and was still told that she was too bare, so she had to put on a scarf in order to be registered.
Questioned about this last Thursday, Mr Hall said: "Because you have to take photographs, so if someone comes with half their breasts out and cleavage showing, this isn't permitted."
"This has been around not just under my administration but other previous ones where we ask people to dress in decency and in order. So if my people feel that someone is not properly dressed for the photograph, we ask them to kindly put on the proper attire. That's not out of order. It's trying to help them. So it's not to be rude, it's to make sure that things are done in decency and in order," Mr Hall added.
The Parliamentary Elections Act makes no mention of dress code.