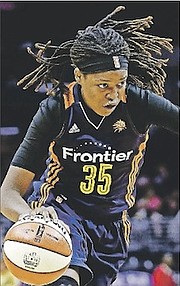 By RENALDO DORSETT
Sports Reporter
rdorsett@tribunemedia.net
BAHAMIAN basketball star Jonquel Jones celebrated her 23rd birthday yesterday by continuing her domination in the Korean Basketball League, posting yet another double double.
Jones finished with 14 points and 12 rebounds in her Woori Bank's 61-51 win over the KB Stars yesterday.
She has been the catalyst behind her team's success and league-leading 20-1 record on the season.
Woori Bank leads the league in nearly every statistical category scoring 69.8 points per game, top rebounders at 41.2 per game, dishing the most assists at 15.1 per game and defensively are allowing a league low 54.9 points.
Jones leads the team in both points (15.8) and rebounds (12.6) in just over 23 minutes per game.
She is also shooting 55 per cent from the field, 46 per cent from three and also leading the team with 3.1 blocks per game.
Woori Bank has 15 games remaining in the regular season, which concludes on March 6.
Jones was selected No. 5 overall by Woori Bank in last July's Draft following the completion of the WNBA season.
Jones finished her rookie campaign for the Connecticut Sun averaging 6.8 points, 3.7 rebounds and 1.1 blocked shot in just over 14 minutes per game. She shot 53 per cent from the field and 33 per cent from three-point range.
She received one vote in the 2016 WNBA Sixth Woman of the Year tally to finish in a five-way tie for fifth behind winner Jantel Lavender.
She ended the season with one of her most productive games - a season high 21 points with seven rebounds - in the Suns' 87-78 win over the Washington Mystics.
Sun head coach and  general manager, Curt Miller, shared Jones' optimism on the development of her game and looks forward to the player he will get when she returns to the Sun next season.
"We're really excited about her future and look forward to her going and getting better in her international play, and coming back even stronger in year two," Miller said.
He said he expects the versatile Grand Bahamian native to return to the Sun as an improved player.
Jonquel is so talented. She's a presence defensively around the rim. She alters shots. She is going to be a real talented defender. She gets overpowered by the [Brittney] Griners and the [Sylvia] Fowles of the world who bother her with their length," he said, "She's got to dedicate herself to being a pro: the nutrition, strength and training, the conditioning aspect," continued Miller. "She's got to get stronger. It depends also on how much she puts into it."
The Sun finished last season 14-20, 5th in the Eastern Conference., just missing the postseason after a dramatic midseason turnaround.
The Sun will look to build on last season's strong finish when it tips off its 15th season on May 13.