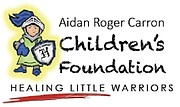 THE Aidan Roger Carron Foundation has been formed with the aim of transforming paediatric care in The Bahamas.
Aidan Carron was seven months old when he contracted a secondary and potentially deadly auto immune disease, Hemophagocytic Lymphohistiocytosis (HLH), last July after a "catch up" administration of his vaccinations. He developed a fever of 107.1F (41.6C) and had to be rushed by air ambulance to the Nicklaus Children's Hospital in Miami, where he spent more than five months being treated with blood tranfusions, chemotherapy, steroids and antibiotics.
His parents, Robert and Elizabeth Dupuch Carron, have said they do not want other Bahamian families to suffer the same experience and have agreed to release Aidan's confidential medical records to allow physicians, nurses and researchers detailed insight into the diagnosis, testing and treatment of life-threatening diseases.
The foundation's mission statement is "Together we can fight HLH, Leukaemia, Cancer, Diabetes, obesity and other paediatric diseases by utilising world-class partnerships, creative multi-platform educational campaigns, state-of-the-art diagnostic equipment and treatment protocols, whilst recognising the 'Unsung Heroes' in our nation."