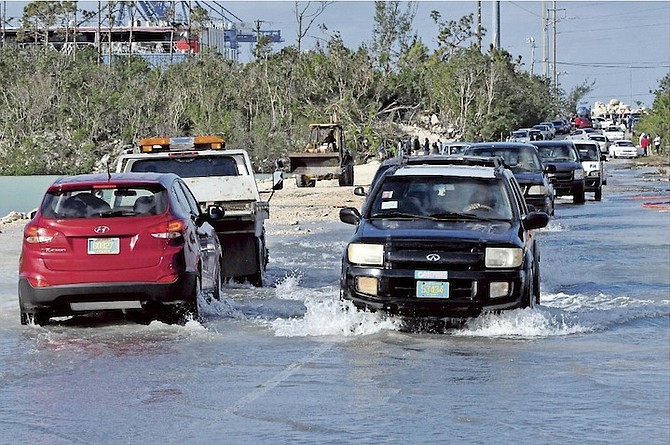 By DENISE MAYCOCK
Tribune Freeport Reporter
dmaycock@tribunemedia.net
GRAND Bahama residents woke up to breezy weather and flooding at Fishing Hole Road on Sunday morning as a result of a cold front that moved across the island.
Fishing Hole Road was underwater and many motorists were caught off guard while driving in the area around 8am on Sunday. The narrow low-lying causeway passes through Hawksbill Creek, and connects Freeport and West Grand Bahama.

Flooding has been an ongoing problem at the street for many years and successive governments have promised to address the issue.
In December 2015, the Christie administration signed a $6.5 million contract to construct a new causeway at Fishing Hole Road to end years of flooding caused by tidal surge which have prevented access to West Grand Bahama.
All Bahamas Construction was awarded the contract and the 61-week project was to be completed by the end of January 2017.
Preliminary work had started in the area, but had been suspended due to Hurricane Matthew, which hit the island last October.
Residents of West Grand Bahama, particularly Eight Mile Rock, and Queens Cove had agitated for the construction of a bridge at Fishing Hole Road. Former civic leader and former Progressive Liberal Party Senator Caleb Outten, veteran educator (now deceased) Mary Nabb and residents of Eight Mile Rock held numerous protests at Fishing Hole Road calling for the government and the Grand Bahama Port Authority to build a bridge there.
Two lives have been lost when persons previously attempted to swim across Fishing Hole Road when it was flooded.
During the signing on December 18, 2015, Prime Minister Perry Christie recalled coming to Grand Bahama and visiting Fishing Hole Road during the aftermath of Hurricane Frances during his first administration.
"I had a stroke just before Hurricane Frances and the doctors did not want me to come out, and I came out and I walked through the affected area … I saw how this road and how it was rendered useless and I heard about how people, two I think, lost their lives and it never left me," he said.
Mr Christie said that Minister for Grand Bahama Dr Michael Darville had dedicated himself to address the issue.