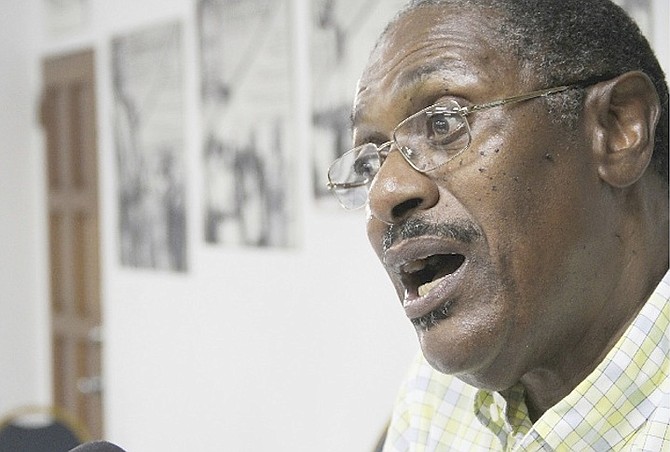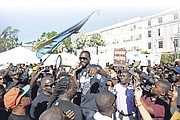 By SANCHESKA DORSETT
Tribune Staff Reporter
sdorsett@tribunemedia.net
PROGRESSIVE Liberal Party Chairman Bradley Roberts yesterday referred to We March Bahamas as a "rebel group" and called lead organiser Ranard Henfield "a confused boy".
In an interview with The Tribune, Mr Roberts said the PLP and the people are "ready to march" to celebrate 50 years of Majority Rule on Tuesday, despite a dark cloud attempting to overshadow the day.
He laughed off comments by Mr Henfield, who last week said he never intended to march with the PLP, despite Mr Henfield inviting Mr Roberts and the governing party to march with the activist group on Majority Rule Day.
While appearing as a guest on the 96.9 FM show "Morning Blend", with host Dwight Strachan last week, Mr Henfield said he was "playing chess" with Mr Roberts because he knew the PLP chairman would never put "country over party."
"I do not have to respond to that," Mr Roberts said yesterday.
"I never had a conversation with the boy. We never met and I never got any letters from him. The Bahamian people are ready to march, they are ready to celebrate and the entire Bahamas is invited. I am not concerned about the rebel group and what their intentions are. This will be a peaceful march. The greatest fight for the Bahamian people was fought 50 years ago and not a punch was thrown or bullet was fired. We will not be deterred because this rebel group wants to create confusion and make this about them. We are a peace loving people and are marching for the Bahamas."
Activist group We March Bahamas and the PLP both have conflicting marches planned for tomorrow which is Majority Rule Day.
We March Bahamas plans to march from the Clifford Park/Western Esplanade areas along Bay Street to Pompey Square at 10am. The march is part of a protest against the government and the status quo.
Meanwhile, the governing party, which will be celebrating the 50th anniversary of the historic day, will march at 7am from Windsor Park ending at the Southern Recreation Grounds on Market Street, as part of celebrations for the holiday.
We March Bahamas staged a massive protest on November 25, 2016, where more than a thousand people marched from Arawak Cay to downtown Nassau. A large group of protesters also occupied Rawson Square for 12 hours as part of the demonstration.