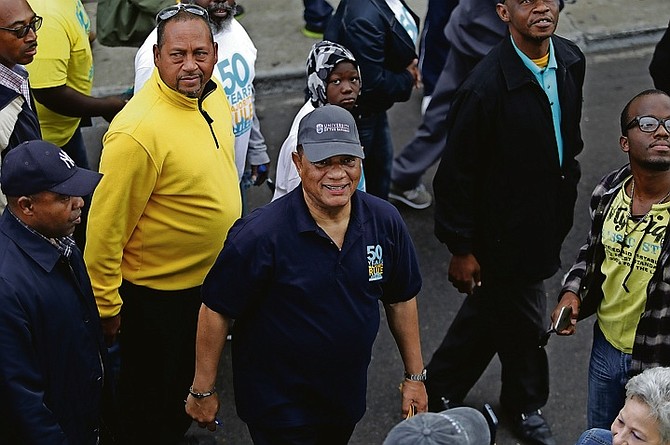 By SANCHESKA DORSETT
Tribune Staff Reporter
sdorsett@tribunemedia.net
MORE than 1,000 people marched in solidarity with the governing Progressive Liberal Party (PLP) yesterday morning, commemorating the 50th anniversary of a day Prime Minister Perry Christie described as "one of the most significant in the history of The Bahamas".
Dressed in colours representing the national flag, the participants marched for nearly three hours, singing gospel songs and the National Anthem, from Windsor Park to Bay Street and finally to the Southern Recreation Grounds for a ceremony.
Despite fears that the governing party's march and the We March protest would meet along the planned route, the Majority Rule Day march went on uninterrupted. Police did not give an estimate of the crowd size when asked by The Tribune.
It appeared that some of the participants were bused in from their various constituencies, as buses emblazoned with the faces of PLP MPs Michael Halkitis, Jerome Fitzgerald and Ken Dorsett were at the ceremony site.
Senators, parliamentarians and representatives from various unions and civic organisations all took part in the march; however, Free National Movement Leader (FNM) Dr Hubert Minnis and Official Opposition Leader Loretta Butler-Turner were noticeably absent. Dr Minnis took part in the We March protest.
The Prime Minister said he had hoped the opposition would be more "mature and sensible" on such a significant day for not just the PLP and its supporters but the entire Bahamas.
"The responsibility for those of who are politicians, who are in government, who are in opposition, is to recognise that we must not dumb our country down," Mr Christie told the massive crowd gathered after the march.
"We must understand that we have a responsibility to address the issues that confront our country constructively, sensibly and in a mature fashion," Mr Christie said.
"The people of this country would expect me, Loretta Butler-Turner, even Dr Hubert Minnis to be sensible. To understand that Majority Rule was for all Bahamians, to understand that Majority Rule was for white Bahamians as well as black Bahamians, to understand what this day means to the people. To understand that whatever the Bahamas is facing, there comes a time when issues of sovereignty, issues of national progress, issues of having a national plan that we can all adhere to come first and to avoid stop, review and cancel. We must be able to put behind us and put country first because in the final analysis the message remains the same. I want the year of the 50th anniversary of Majority Rule to be one in which we will resolve to attack the problems in our country, whether housing, social services, unemployment, whatever it is we must resolve to do more."
Mr Christie reassured the crowd that the government is not asleep at the wheel and promised that more jobs are coming in 2017. He also urged Bahamians, young men in particular, to assist the government in putting an end to the high number of murders.
"I have gone to many of your colleagues' funerals. I have spoken in churches where I said 'the brother who has been killed is a victim and the brother who killed him is a victim also.' When our fathers gave us Majority Rule, it came with the view that the Bahamas was a place where we are our brother's keeper, where we didn't have a disregard for human life," Mr Christie said.
"This conclusion to be a part of gangs, this urge to inflict violence on one another contradicts all that I have said about what this country represents and what it should be. We must not allow ourselves to conclude that the problem is our neighbour's problem, all of us must resolve and accept that what is happening in our country is unacceptable and is a danger to our civilisation and it must be stopped by all of us. We are not sleeping at the wheel and we are not talking politics. We are talking governance and we want the people to know we are not going to compromise on giving them the service they need, the jobs are coming."
Mr Christie also hinted that he would not be giving up leadership of the PLP anytime soon, telling the crowd "just as Lynden Pindling passed the baton to Hubert Ingraham and then to myself, the baton will be passed but the only thing I can tell you is, it will be passed at the right time".
A gospel concert began after Mr Christie's remarks featuring Bishop Lawrence Rolle, Shaback, Rahming Brothers, Golden Gates Praise, Rachel Mackey and others.
This was followed by a cultural show and concert at Arawak Cay from 4pm to 8pm featuring the Royal Bahamas Police Force, Royal Bahamas Defence Force Band, Her Majesty's Prison Band, National Children's Choir, National Youth Choir, Stileet, Geno D, Veronica Bishop and DMac.
The historic day closed out with a Junkanoo rush out and fireworks at Arawak Cay, from 8pm to midnight.