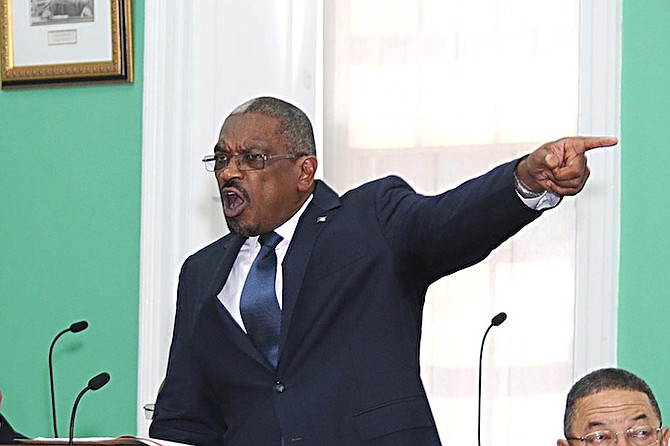 By RICARDO WELLS
Tribune Staff Reporter
rwells@tribunemedia.net
FREE National Movement Leader Dr Hubert Minnis yesterday scoffed at Prime Minister Perry Christie's recent assessment of his administration's term in office, accusing the nation's leader of being "disconnected from reality" in the face of crime, vexing unemployment and "secret" deals negotiated by his government.
While suggesting that Mr Christie had no reason to celebrate, the Killarney MP also castigated the prime minister for taking a "victory lap" over the sale and remobilisation of Baha Mar, while still not revealing the hidden details of the agreement.
"After reading today's headlines, I am not sure what country the prime minister is living in," said the FNM leader in a statement yesterday.
"The prime minister cannot be talking about the same country that you and I know, where crime is still destroying families, where unemployment and underemployment remains abysmally high, where negotiations are done in secret to the benefit of Chinese over Bahamians, and where the red carpet is rolled out for foreigners while Bahamians are wrapped up in the proverbial red tape.
"Is this the same Bahamas to which the prime minister was referring? How disconnected from reality can he be to utter such a flippant statement when the reality for so many of us is drastically different?"
Despite a term in office defined by controversy and criticism, on Wednesday Mr Christie insisted that his administration has done an "outstanding job" for and on behalf of Bahamians.
While the nation's leader said he wouldn't describe himself at this point as "confident" headed into the impending general election, Mr Christie said he believed that if justice is done Bahamians will see that the Progressive Liberal Party (PLP) has earned their confidence in being able to govern the country for the next five years.
Dr Minnis, who has been constant in his demands for the court records and documents connected with the sale of Baha Mar be released to the public, yesterday contended that the Bahamian people wanted to know what Mr Christie was so enthused about.
"The Bahamian people want to know what Prime Minister Christie is celebrating. The latest economic report reveals that this PLP government's handling of the Baha Mar fiasco has cost our country $2.5bn in GDP and a loss of $410m in tax revenue," Dr Minnis said.

"Who but the embattled prime minister would look to celebrate those dubious results? His latest statement only shows how woefully out of touch he is with the families and communities across our country.
"The people are not celebrating; rather they are suffering under Prime Minister Christie's inept government's continued failures. This government's mismanagement has robbed the people of jobs, our economy of true growth, and for many Bahamians, hope.
"Losing $2.5bn in GDP has consequences at every level - from having junk bond status thrust upon us because of their fiscal malfeasance, to people forced to go without jobs for years.
"Mr Prime Minister that is nothing to celebrate. Losing $410m in tax revenue as you exempt your Chinese allies from the onerous VAT is nothing to celebrate," he said, referring to The Tribune's revelation last week that VAT payments would be exempt on Baha Mar's completion.
"This government and the embattled prime minister should be hanging their heads in shame for the level of incompetence they have subjected Bahamians to. Instead they celebrate.
"The only celebrating the people are preparing for is when they rid our country of the PLP regime that has brought us so low," Dr Minnis added.
On Wednesday, Commissioner of Police Ellison Greenslade said overall serious crime fell by 26 per cent in 2016, compared to 2015, however crime and the fear of crime remains a concern for many Bahamians. In December, officials from the Department of Statistics said the unemployment rate from October 24-30, 2016 was 11.6 per cent, a 1.1 per cent decline from May, when the previous study was done.
The decline came as hundreds of Bahamians gained employment in the construction sector after Hurricane Matthew's devastating damage.
Officials could not assess the quality of the jobs created in the time between the two most recent surveys, such as whether they are likely to be stable or temporary jobs. The FNM has questioned the numbers, saying these jobs were likely temporary and did not give an accurate picture of the unemployment situation.