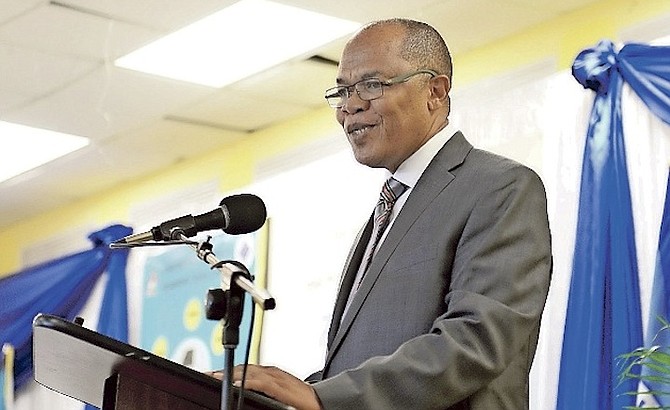 By RASHAD ROLLE
Tribune Staff Reporter
rrolle@tribunemedia.net
THE country's public health sector took another step forward toward offering more efficient and integrated healthcare services yesterday with the launch of a workshop on the Integrated Health Information Management System.
The government signed an $18.4m contract last August with AllScripts and their partner, Infor Lawson, for Integrated Health Information Management System (IHIMS) propriety software.
After years of the public health sector having a predominantly paper-based system, it is expected to take years before the IHIMS system is fully implemented throughout the country.
The current system is a hindrance to best healthcare practices, critics say, for it includes no centralised location from which all the records of public hospital patients could be retrieved.
"Regardless of where you go for healthcare," Prime Minister Perry Christie said at yesterday's event, "your records will follow you.
"Today we are in the process of waving goodbye to the duplications and inefficiencies associated with maintaining different records for the same patient simply because he or she may be seen at different public clinics or hospitals within our archipelago; it is not only inefficient, but dangerous. We are minimising the danger inherent in the system."
Mr Christie said the transformation of the record keeping and integration process is connected to his government's pursuit of National Health Insurance (NHI).
"The involvement of NHI consultants and others in the planning and procurement stages of this effort speaks to the Public Hospital Authority and my ministry looking ahead to the launch of the first stage of the NHI programme," he said.
Given the benefits of such a system, PHA Managing Director Herbert Brown provided a response to questions over why the system was not introduced sooner.
He said cost and quality concerns delayed the introduction of the system.
"It took long because we wanted to find the right strategic partner," he said. "There are many medical records systems out there but they were not the right ones. We have been searching for a strategic partner for almost ten years now and so yes it has (taken) long. Secondly, it cost a lot of money.

"At the end of the day, this system will cost us almost $19m and that does not take into consideration the additional equipment we need to provide because we have to enhance equipment technology on the Family Islands so it is a very costly system.
"You go to PMH right now, the medical records department, the size of it is probably 50x70. In time to come, that storage department will no longer be needed because everything now is stored and you could get your records electronically.
"With this system, a doctor can be at home 3am and he gets a call from one of his junior staff saying he has a patient in front of him. Well all the doctor has to do is go onto his computer, log on and be able to access that patient's record.
"Could you imagine the significance of that because in many instances to begin the treatment process, the doctor must have access to your records. You may have allergies, you may have certain conditions he must be aware of before he could start to give you medications. This is significant for our country. And it doesn't matter where you are, so if you went to Mayaguana and you got ill, and the nurse or doctor in that area saw you and they have to transfer you to PMH, when you get there, your record is already in the system."