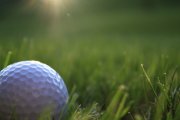 By BRENT STUBBS
Senior Sports Reporter
bstubbs@tribunemedia.net
GEORGETTE Rolle is hoping that the fourth time will be her charm as she gets ready to mix and mingle with some of the best female golfers in the world at the fifth Pure Silk-Bahamas LPGA Classic this week at the Ocean Golf Club on Paradise Island. 
Rolle, now a teaching professional of her own Fourteen Clubs Golf Academy at the Bahamas Golf Federation's Driving Range, said she and her caddie Marcus Pratt have been working on narrowing their focus on playing the course and she's excited about getting through the greens this year. 
"We've been working really hard this year," she said on Saturday as she participated in the LPGA Junior Clinic conducted at the BGF facility. "We like the results we've seen so far and how our routine has gone."
For Rolle, who broke the ceiling when she got the Bahamian exemption to play in the initial tournament and now in her third straight after Raquel Riley secured the spot in the second, there's no better feeling than to carry the Bahamian flag in such a prestigious event on home soil.
"It means a lot for me to play, but I think as the years go by and my Fourteen Golf Club grows, more of the younger players are looking up to me as a role model and so I think that's why it becomes more important, not necessarily for me as a player being in the event, but for me as the coach of Fourteen Club," she said. "So that's what makes it huge and important."
But Rolle can not underestimate the magnitude of just being listed on the same chart in the $1.4 tournament that saw Hyo Joo Kim, who captured her third title on the LPGA Tour last year with a final round 7-under par 66 and 18-under 274 total to defeat Stacy Lewis, Anna Nordqvist and 2015 champion Sei Young Kim by two strokes. 
"The way that sports tourism has done to get this tournament here is huge because when I played in the LPGA Futures Tour, I actually didn't play in a LPGA event," she said.
"So by having it at home and having that exemption sot available to Bahamians, this is the opportunity of a lifetime with it being home.
"I'm sure if I would have had another opportunity to play in one with my teaching schedule because once you are in the teaching world, the playing mindset or thinking that you will play again goes out the window because it's a long week teaching and you don't get that much opportunity to play."
With so many top ranked players participating, Rolle said there is a lot of pressure because she will have two days on Thursday and Friday to advance to the main draw play on Saturday and Sunday when the international television coverage takes center stage.
"You have to make sure that you are ready for the four days of competition," Rolle stated. "It's just a belief factor, deciding that you are going to play and believing that you can do it. Physically, I'm going into the event hitting the ball just as well as the persons who won, chipping and doing stuff like that.
"But I think what separated me from the field that made the cut is knowing that you belong there. That's the thing. So that has been a big part of my preparation this time, just believing that I belong there and playing with them, not just physically, but with the mindset that I belong there."
Just to clear her mind away from her teaching responsibility, Rolle said she took some time of to go to the United States to get into her own bubble in a tournament environment where she worked on her game and making the adjustment.
"We have some very good players coming here to participate, playing at the top of their game," Rolle said. "I have to make sure that I get out there and do my thing."
And today, Rolle is keeping her finger crossed that Riley clinches one of the two spots in the qualifying round that will take place at the Ocean Club. Riley, now a teaching pro in Exuma, played in the second Silk Tournament when she beat out Rolle in the BGF playoffs.
"Her game is looking pretty decent. I know she said she was working on her putting," Rolle said. "So I wish her all the best as a Bahamian. We grew up together playing as juniors, but the more of us in the field is better, which is what we need to push us along."
On Sunday, Rolle said she was delighted to be a part of the three-member team that included American Casey Grice and Mexican Regina Placencia, who imparted their knowledge to more than 60 youngsters in the LPGA-BGF's Junior Clinic at the BGF's Driving Range at the Baillou Hills Sporting Complex.
"The girls that did the clinic with me were fun, they were very opened to the kids. That was perfect," Rolle stressed. "The kids got to see us practice and they got to what they like to do, which is to hit some golf balls with the professionals to say 'hi, I can do it too.'
"So I m hoping that they were able to walk away with the desire to hit some more golf balls. I want this for me. I want to win more for them than myself. That is what has me on a more mental level. I want it more for them."
Over her past appearances, Rolle said she put a lot of pressure on herself to do very well, but she's not feeling it right now, although there is a sense of anxiety that comes just before teeing of. 
"Last year, I was kind of wondering if I'm going to play well and I didn't play as well as I wanted to play," she said. "This year, I know I'm going to play well and so I think that is going to make the difference."
Only time will tell how she will perform when the tournament get underway on Thursday. But Rolle, who turned pro in 2008 out of Texas Southern University, said she's definitely going to be ready for the challenge this year.