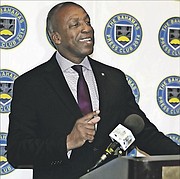 By RASHAD ROLLE
Tribune Staff Reporter
rrolle@tribunemedia.net
ALFRED Sears is concerned about the "unorthodox" process by which he says some of the Progressive Liberal Party's Family Island stalwart councillors and delegates have been flown into New Providence and accommodated.
A recurring concern about party conventions has been the allegation that people vying for leadership positions pay to bring delegates supportive of them to the capital, an action some say is tantamount to vote buying.
As an organisation, the PLP does not assume the responsibility of flying people into New Providence and providing them with living accommodations during the convention, Golden Gates MP Shane Gibson, convention chairman, confirmed to The Tribune yesterday.
"That's not the party's responsibility," Mr Gibson said. "All delegates pay their own way or the branch pays for them. The party itself wouldn't pay. As far as I know, everybody paid their own way. If they made some other arrangement, I wouldn't know."
Nonetheless, it is unclear whether people who intend to vie for key positions in the party played a role in bringing their supporters to the convention, as Mr Sears suggests.
One man, who identified himself as Joseph from Bimini, claimed that his MP Obie Wilchcombe paid for a chartered flight to bring the entire Bimini delegation to New Providence.
Likewise, MICAL MP V Alfred Gray said he helped bring a delegation from MICAL to New Providence.
"As the member of Parliament, you contribute however you can to have your delegation come down," Mr Gray said. "They don't depend on you for everything but sometimes I suppose, I can't speak for any other constituency, if my delegation is 15, I make a contribution to them coming and generally they raise funds through the branches. This is the PLP. This is an organisation. This ain't no fly by night. Every branch raises funds during the year to help them come to the convention when they know the convention is coming. They have cookouts, whatever means they have to raise money."
Mr Sears, who will challenge Prime Minister Perry Christie for the PLP's leadership post, said yesterday that he isn't satisfied with the process by which Family Island delegates have been accommodated, adding that he lacks the resources others may have when it comes to providing delegates and stalwart councillors with transportation and living arrangements.
"I'm not satisfied by the process because as a member of the PLP, the party which takes dues from the members ought to ensure and facilitate the attendance of all of its stalwarts from its Family Islands because it's the party that decides to hold the convention in Nassau versus Freeport or any other island," he said. "To have stalwarts looking to candidates to facilitate their presence and participation in the convention is unorthodox so therefore under my leadership I would ensure that there is a process which preserves the secret ballot of party members. You ought not to have to declare that you are loyal to me or the incumbent in order to be facilitated."
Asked if he has reason to believe people have had to declare their loyalties in order to be helped out with accommodation, he said: "My understanding is that persons have been told that the party will not be responsible for their transport and accommodation and that the candidate is responsible. That was circulated in writing from the secretary general."
Mr Sears said he was not sure if "candidate" referred to candidate for party leader or to candidate for parliamentary seats in the upcoming general election.
He said: "We have a number of persons who have asked us to help with their accommodation and to the best of our ability (we have helped) but of course this is a David (versus Goliath) campaign. My resources are very, very limited and I don't have the means that others have so my understanding was that there was a meeting in Freeport and certainly representations were made and I think if you spoke to them they would tell you what was said about facilitating their transport and accommodation."