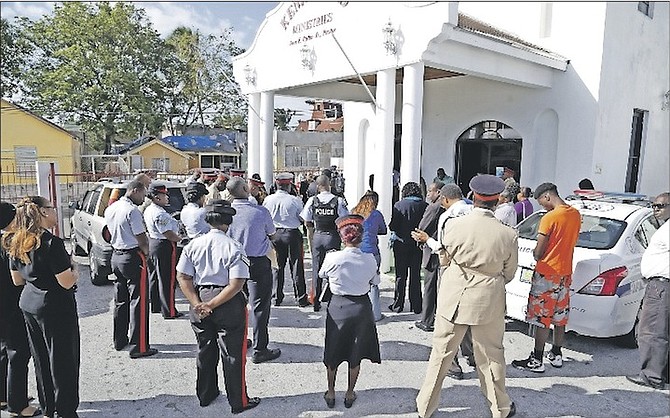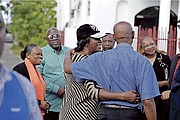 By RICARDO WELLS
Tribune Staff Reporter
rwells@tribunemedia.net
THE Kemp Road community yesterday became a basin of "prayer and love" as police, along with community and religious leaders canvassed the area with a view to arrest the scourge of crime that has gripped the area since the start of the year.
Operating with the belief that "spiritual warfare" had to be waged in the community, which has been the site of four of the country's 13 murders this year, Bishop Simeon Hall, pastor emeritus of New Covenant Baptist Church, called on community residents to implement a self-imposed curfew. He said this was the best way to address the "mayhem" seen across the country.
"We are in a crisis," stated Bishop Hall. "I call on the authorities to turn up the (pressure). We should call on the residents of Kemp Road to engage in a self-imposed curfew.
"I think people should see, there are 21 bar rooms on Kemp Road, right on the face of this road, 21. I counted them. People need to be in their houses after 10 (pm), the government can't do that, but you can do it if you live in this area."
Bishop Hall's pronouncement was one of three recommendations he made Tuesday; the second was a call for law enforcement to do more to rid the street of repeat offenders and the last, a call for families to aid police by turning in their relatives believed to be involved in criminal activities.
"Parents should not harbour their children who are engaged in crime. If you know your child is engaged in crime it is better to turn them in rather than to go to the funeral home," Bishop Hall said.
"I am sick and tired of funerals. Some of (the parents) have to come to the church and the church have to help them. So I am calling on the parents not to harbour children who are engaged in crime. Turn them in rather than having to go to the graveyard."
Former Deputy Prime Minister and current Urban Renewal Co-chair Cynthia "Mother" Pratt asserted that "comfort" had to be given to residents in the area, saying that they were afraid and scared into silence as a result of the recent rash of murders in their community.
"That is what we have come to do, we have come to pray, encourage the people and most of all, we want them to know that we know that prayer changes things," Mrs Pratt said yesterday.
"It is a spiritual warfare and those of us who deal with the church, we are about spiritual battles. That is why we have come into these areas," she added.
Differing Views
Tuesday's walkabout depicted a number of key elements that often come together to shape the quality of life experienced in the Kemp Road community.
On Williams Lane yesterday, a 600-yard stretch of road that extends east from Kemp Road proper, to the dirt field just west of the old City Market food-store, the actuality of crime in the Bahamas is evident.
It was there, the first left off Williams Lane, where reporters met 59-year-old Anthony Adderley.
According to the long-time resident of the Kemp Road community, the lack of respect for adults and law enforcement by the country's youth had evolved to a degree where things previously never considered an option has become the norm.
"I walked through these places day and night," he said. "We used to sell fruits, we went to the dock like three o'clock in the morning. We walked to catch the boats that came in early to get the nice fruits, nothing happened. Big money in our baskets, nothing happened. But now, where can we go?
"The changing of times. The generation is different, the respect isn't there (anymore). And that is where the young guys take advantage of the whole thing."
Mr Adderley said his fear of "violent youth" had led him to request increased patrol by police in the area, noting that the prevalence of angry and misguided youth had increased over time.
Upon hearing these claims, Ivan Butler, senior pastor of Kemp Road Ministries, said he wanted to make the point to the press that not all was lost in the community, insisting that "good" and "upstanding" people resided in the area.
"As far as I am concerned, yes there are some challenges but sometimes, I think that some of the things that are said are overblown and exaggerated," he added.
Last week, Montagu MP Richard Lightbourn, representative for the area, characterised the community as one losing its sense of compassion.
Mr Lightbourn told the House of Assembly that he was concerned that the level of crime had reached a point that couldn't be de-escalated with basic law enforcement tactics.
On January 11, a man reportedly on bail for murder was shot dead in the Kemp Road area. On January 14, Keno Kelly was shot dead as he walked near Strachan's Corner, off Kemp Road.
On January 18, 16-year-old Ricardo Fawkes was found dead at Williams Lane, off Kemp Road. On January 22, Anthony Mather died in hospital after being shot in Whites Addition, also in the Kemp Road area.