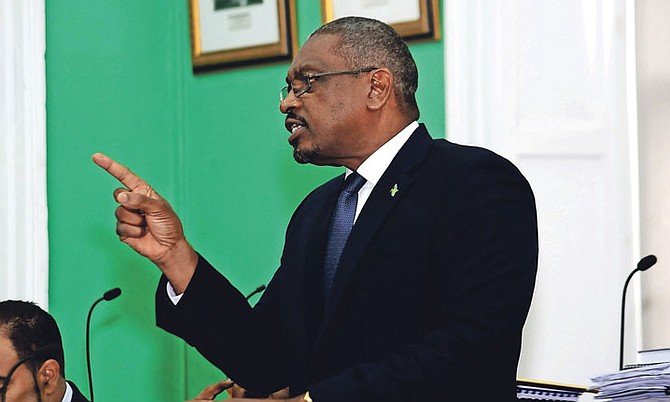 By RASHAD ROLLE
Tribune Staff Reporter
rrolle@tribunemedia.net
IN his first remarks since the Progressive Liberal Party (PLP) completed its three-day convention, Free National Movement (FNM) leader Dr Hubert Minnis branded Prime Minister Perry Christie "delusional" and said he is unconcerned that some former FNM members have switched their support to the PLP.
At the convention, Mr Christie had called for political discourse that's less coarse, defending himself against critics who have described him as delusional.
Dr Minnis said yesterday: "I listened attentively to the prime minister last night and I am even more convinced of the position that he is delusional, totally disconnected with reality."
"He offered no real plans, just more show and no substance and he's proven again that he just talks fool. Alfred Sears ran against him and tried to defeat him and was unsuccessful. The FNM and the Bahamian people will be successful and complete the job Sears could not do."
Dr Minnis knocked Mr Christie and other PLPs for blaming the FNM for its governance of the country during the last Ingraham administration, instead of accounting for what he said has been unrealised promises.
"The man has no shame," Dr Minnis said. "He said the FNM, when we were in office, we had mismanaged the country. He could not be serous. First, the national debt has increased under them. The debt to GDP ratio has increased. Taxes have increased. They've collect (millions) in VAT and still the debt increase. We've been downgraded four times under them and moved to junk status. We've had multiple travel advisories issued against us. He tried to fool us that he created 32,000. Every other month or week we in darkness and still can't get NHI up and running. "
As for the former FNM members, including parliamentarians like Algernon Allen and Byron Woodside who attended the PLP convention Thursday night in a show of support for the PLP, Dr Minnis said: "The PLP is grasping for straws. They are drowning and they found FNMs who were willing to go with them. I won't comment on the individuals there, but all I will say is that their ship is sinking. Mr Christie showcased a few FNMs on the platform, but Pindling did the same thing in 1992 when he realised they were losing. He got a couple FNMs and showcased them, with them saying 'I'm a PLP and I'm proud.' History will repeat itself."