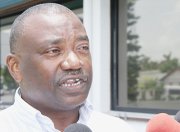 By NICO SCAVELLA
Tribune Staff Reporter
nscavella@tribunemedia.net
FORMER Free National Movement Cabinet minister Phenton Neymour yesterday suggested that he was denied the nomination to run as the party's candidate for Exuma in the upcoming general election because of FNM Leader Dr Hubert Minnis' attempts to purge the party of those individuals who served under the previous Ingraham administration.
Mr Neymour, who served as minister of state for the environment and South Beach MP in the last Ingraham administration, said he was "not surprised" that Navarro Bowe has been chosen to be the party's candidate for the Exuma constituency, adding that he figured the "writing was on the wall" given the small number of "Ingrahamites" who have been nominated candidates and/or executive committee members under Dr Minnis' leadership.
However, Mr Neymour said he hasn't ruled out frontline politics, but is now "going to allow the rest of this to play out" before making the "best choice in my interest" going forward.
Mr Neymour's comments were in reference to the FNM's selection of Mr Bowe as its candidate for Exuma, despite Mr Bowe reportedly receiving significantly fewer votes than Mr Neymour during a vote of the executive council in Exuma.
According to party insiders, Dr Minnis received a signed petition by over 300 FNM voters last year stating that they wanted Mr Neymour to be their representative. The Tribune understands that three candidates, Mr Neymour, Mr Bowe and Joshua Sears were presented to the Exuma constituency association for the vote, with the understanding that whoever the association chose, Dr Minnis would ratify as the Exuma candidate.
Sources said that Mr Neymour received 67 per cent of the vote.
Despite engaging in a war of words on Facebook with several FNM executives, Mr Neymour had previously said that he would not comment on the matter further out of respect for Dr Minnis' request to "allow him to address the nomination for the Exuma constituency" last week.
Yesterday, however, Mr Neymour said Dr Minnis has not re-engaged him on the matter, and that the party was going ahead with its decision to nominate Mr Bowe.
"Dr Minnis hasn't gotten back to me but a member of the party did get back to me," Mr Neymour said while at a meeting of the Rotary Club of West Nassau. "And basically they indicated to me verbally that they're standing by their decision. They did not address the claims that were made privately by me, but those issues still remain.
"…The reality is that the FNM has nominated Mr Bowe as their candidate and it is very unlikely I see them ever making a change in that, or it is unlikely that they may even want to review it further. And so I've accepted that, and that is their call at this particular time."
Mr Neymour went on to explain that he is not "surprised" at the party's decision, given what he suggested is the party's "trend" of phasing out individuals that served in Prime Minister Hubert Ingraham's administration.
Firstly, according to Mr Neymour, out of the current 32-member executive committee of the FNM, which selects the candidates, just five served under Mr Ingraham.
Only a few politicians who served in an Ingraham administration have been nominated by the FNM for the next election. Former Education Minister Desmond Bannister was ratified last year to run on the FNM's ticket in Carmichael, while former Parliamentary Secretary in the Ministry of Housing Brensil Rolle has been nominated for Garden Hills. Both men represented the respective areas from 2007-2012.
"After serving as an MP and Cabinet minister, with that trend I saw the odds were against me," Mr Neymour added. "It should not have been a surprise that I was not nominated for the FNM. That is why today, I who stand as the last Mohican, the last MP and Cabinet minister under the Ingraham administration, I can now rightfully and truly declare that the Ingraham era is over."
When asked if he still supports the FNM, and if he has any plans to step down from frontline politics, Mr Neymour said: "I am not involved in the party. As I spoke earlier, I was removed off the council, so I'm no longer a council member so I hold no office at this particular time. Yes, at this current time I am an FNM, but I'm just like any other voting citizen. That's the only role that I have, there's no other role that's been assigned to me in the party."
He added: "I am not done with frontline politics, and no I do not plan to run as an independent. There are numerous options that I have available to me. I'm just going to allow the rest of this to play out, and I'll make the best choice in my interest."
Earlier this month, Mr Neymour expressed disappointment on social media when he was not chosen as the FNM's candidate to run in Exuma.
In a series of posts on Facebook, Mr Neymour engaged in a war of words with several executives of the FNM, after he was told in a post "Phenton Neymour is no more."
The argument started when one FNM executive suggested that Exuma did not want Mr Neymour and that Mr Bowe had the support of Exuma residents.
In response, Mr Neymour said that he had the "largest family in Exuma" and had threatened to withdraw his support, as well as his family's, from the FNM.