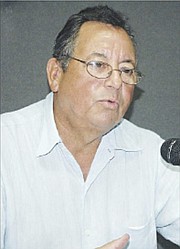 By KHRISNA VIRGIL
Deputy Chief Reporter
kvirgil@tribunemedia.net
THE Free National Movement turncoats, including two former Cabinet ministers, who publicly pledged support for Prime Minister Perry Christie must quickly prove the reasoning behind their move to avoid being branded "political parasites and opportunists," former Cabinet minister George Smith said yesterday.
If the move is seen as them "singing for their supper" or gratitude for favourable treatment by the prime minister, then it will not be perceived as the group genuinely believing in the PLP's principles or its leader's ability to steer the country into the future, he told The Tribune.
On the final night of the PLP's convention, as Mr Christie wrapped up his victory speech, former FNM Cabinet ministers Algernon Allen and Byron Woodside along with former party members Ivoine Ingraham, Lester Turnquest and Anthony Miller took to the stage to pledge their support for the nation's leader, at one point describing him as "the greatest leader" that this country has ever seen.
Singling out Mr Allen from the group, Mr Smith said he hopes "Allen now realises that anyone who comes to the PLP does not have to swim through vomit or any such thing" to be welcomed by the party.
He told this newspaper yesterday that Mr Allen's actions last week reminded him of the events following the 1992 general election in which the now Urban Renewal (UR) co-chair castigated Mr Christie "in the most vile way" for rejoining the PLP.
Mr Allen was named UR co-chair shortly after the PLP took office in 2012.
"(Former Prime Minister Hubert) Ingraham and Mr Christie were fired from Cabinet by (former Prime Minister) Lynden Pindling in 1985," Mr Smith, a PLP stalwart councillor said. "Ingraham contested his seat in Abaco in 1987. Christie contested as an independent. They both won because there was very little effort put against them even though the PLP nominated candidates.
"After 1987 they were in the House for a little while then Mr Christie came back to the PLP and was made minister of trade and industry in 1989.
"So when the election of 1992 had occurred, Christie would have been back in the PLP (but) the FNM won the 1992 election. But when he came back to the PLP Algernon Allen who was then the member of Parliament for Marathon referred to Mr Christie in the most vile way and said that he swam through vomit. That's what Allen said of Christie."
He added: "Every Bahamian is welcome to identify with the Progressive Liberal Party. The only real consideration must be the belief that the PLP is the best political organisation to make the Bahamas the best country possible.
"We are happy when converts join us. We hope that they do not expect any special considerations or rewards. If those who identify with the party or its leader on Thursday evening are expecting or have received special treatment, then they may be viewed as opportunists or political parasites. I hope that Algernon Allen now realises that anyone who comes to the PLP does not have to swim in vomit or any such thing to get to the PLP.
"The PLP is a party open to all progressive thinking Bahamians who love their country and its people. I am sure if any of them have come to the PLP genuinely to believe in the PLP and its leader we would welcome them. But if it becomes known that they did it for some special consideration and or job appointment or something that isn't readily available to any and every Bahamas, then those individuals could be regarded as political parasites."
While PLPs celebrated the new pledge of allegiance for the prime minister by the group, many FNMs viewed it as weak and incapable of causing any real implications for the already fractured FNM.
Mr Allen, then minister of housing and social development, was fired from the post on August 28, 2001 after then Prime Minister Hubert Ingraham asked him to resign, but he refused. Earlier that month he had lost his leadership bid to replace Mr Ingraham as FNM leader.
In that year, former National Security Minister Tommy Turnquest and former Labour Minister Dion Foulkes were the leader designate and deputy leader designate respectively, elected in a specially convened leadership process. Mr Allen then alleged that this process was "corrupted".
Despite this contentious relationship, the following year in 2002, he declared that he was "totally committed to the FNM."
Mr Woodside served in the last Ingraham administration. In January 2016, the PLP announced that he had joined the party.