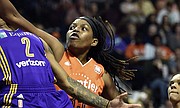 By RENALDO DORSETT
Tribune Sports Reporter
rdorsett@tribunemedia.net
CAREER highs have become routine for Jonquel Jones this season and she posted another such effort to lead the Connecticut Sun to a much needed win to remain in playoff contention.
Jones posted a career high 29 points and 15 rebounds in her Sun's 81-85 win over the Indiana Fever at Banker's Life Fieldhouse on Saturday.
With the win, the Sun improved to 8-7 on the season and sixth overall in the league standings. The top eight teams make the WNBA playoffs.
Connecticut led 28-18 at the end of the first and Jones quickly racked up a double double in the opening half with 15 points and 12 rebounds en route to an early 47-40 halftime lead for the Sun.
"I think we just came out with more energy in the first half," Jones said to the Norwich Bulletin.
"I think we just outplayed them in a lot of areas. So it allowed us to come out of the half on top. I just felt like our swagger in the second half was a little bit different. We were still able to get over that hump, something that we weren't able to do in, not the last game, but our games before that. So it's good to improve. It's good to walk away with a win and especially on the road."
Jones had her most efficient game of the season and shot 11-13 (84.6 percent) from the field and a perfect 2-2 from three point range. As a team, they shot 9-16 from beyond the arch.
With her career high effort, Jones boosted her scoring average to 16.1 points per game and a league leading 12.3 rebounds per game.
Jones is listed among the top vote-getters overall and within their respective conferences after early fan returns of WNBA All-Star Voting 2017 presented by Verizon. When the leading vote getters were announced on June 29, she received a total of 10, 585 votes in the Eastern Conference, third behind Ella Delle Donne of the Washington Mystics and Tina Charles of the New York Liberty.
"It's one of the highest accolades as a professional athlete so it would mean a lot to me it would mean a lot to my family and I think it wouldn't just be a testament to me but to my teammates because they've put me in good positions," Jones told WTNH SportzEdge.
WNBA All-Star Voting 2017, presented by Verizon, opened in early June. The Verizon WNBA All-Star 2017 will be played on Saturday (July 22) at KeyArena, home of the Seattle Storm. The game will be broadcast on ABC at 3:30pm.
To vote for Jones, the Bahamian public can take to social media apps Facebook and Twittter and post "#WNBAVote Jonquel Jones" to officially vote for the Grand Bahamian native.
All-Star voting ends on July 6 and starters will be announced live on ESPN July 11 during the noon edition of Sportscenter. WNBA head coaches will select reserves for both conferences, which will be announced July 18, live on ESPN2.