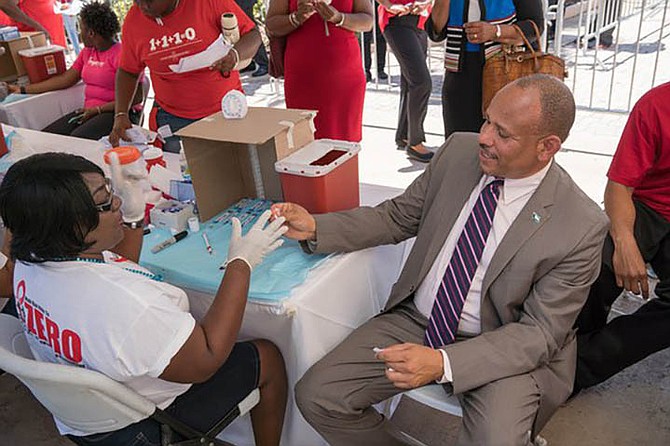 By JEFFARAH GIBSON
Tribune Features Writer
jgibson@tribunemedia.net
FOR some people it was the longest 15 minutes of their lives and for others it was simply a ritual they have become accustomed to - getting their fingers pricked, then waiting for the results from a rapid HIV test.
Scores of Bahamians gathered in Rawson Square on Regional HIV Testing Day (RTD), which celebrated its 10th year last Friday.
Scotiabank branches across the Caribbean led the charge in providing private and confidential locations to facilitate voluntary HIV counselling and testing.
Additionally, healthy lifestyle counselling, glucose and cholesterol screenings, blood pressure readings, and preventative tools were offered.
RTD was originally organised by the Caribbean Broadcast Media partnership (CBMP) on HIV/AIDS, in partnership with Scotiabank. The CBMP is an arm of the Global Media AIDS Initiative (GMAI), which is supported by the United Nations.
Over the last decade, more than 90,000 people in 21 countries have been tested through this initiative. The goal is to test 100,000 people in the Caribbean by the end of 2017.
Many Bahamians took advantage of the free testing initiative. One such person, who wished to remain anonymous, described the event as "convenient".
"I am trying to make this a ritual and get a HIV test every year," they said. "It is important for you to know what your status is. You cannot let the fear of getting your finger stick stop you from knowing, that is why I am came."
Events like RTD aim to increase public participation in voluntary HIV counselling and testing. According to Dr Nikkiah Forbes, the director of the National HIV/AIDS Programme in the Bahamas, normalising HIV testing is part of addressing the epidemic.
"HIV testing is a door for prevention. It is also a door for treatment. Think about a person who is infected with HIV, they may not know that they are infected. There are some estimates depending on various countries that quite a few people that are infected do not know what their status is. Surely if you do not know what your status is you cannot take steps to get into care. What if you are HIV negative, knowing your status helps to keep you HIV negative; it helps with condom use and knowing status of partners. So HIV testing is the way if you are negative to stay negative and if you are positive to get into treatment," she said.

Despite efforts to prevent the spread of HIV, the disease continues to take a heavy toll across the Caribbean. According to statistics at the end of 2009, there were approximately 240,000 persons living with HIV in the region.
The Bahamas is estimated as having the highest number per capita in the Caribbean, which has always been a cause of deep concern. Surveillance indicates that one out of 50 persons living in the Bahamas is HIV positive. It is believed that at least half of them do not know their status.
Between 2006 and 2015 there has been a 38 per cent increase in new HIV diagnoses among 15 to 24-year-olds, with a two-fold increase in men.
While those statistics are concerning, fewer people have tested positive for HIV despite increases in testing over the past few years.
There has been a 43 per cent decrease in annual HIV diagnoses from 2006 to 2015 (52 per cent decrease in women, 34 per cent in men). The number of babies born with HIV decreased from 10 in 2,000 to 0 in 2015. AIDS deaths decreased by 35 per cent between 2005 and 2014 and since 2011, over 31,000 HIV rapid tests have been performed through the NAC with the support of the US President's Emergency Plan for AIDS Relief (PEPFAR)
"We are making great strides, but we have to look to the future," Dr Forbes said.
"The Bahamas is a member of the United Nations which has a unit UNAIDS that is dedicated to specifically ending AIDS. So there is a vision that Bahamas has signed onto and that is to see the end of AIDS by 2030. To get there it is a difficult road, but there is a model essentially and a strategy. So the idea is that if we can get people to the gold standard of treatment that we will eventually have so few cases from infections person to person that the cases would be so small that AIDS will stop being transmitted and fizzle out," she said.
This strategy recommends that by 2020 90 per cent of all people living with HIV will know their HIV status; 90 per cent of these persons will have sustained antiretroviral therapy, and 90 per cent of them achieve viral suppression.
The successful public/private partnership of RTD is a model as the Caribbean seeks to ensure that HIV programmes are not only sustained for future generations, but that progression to AIDS is halted and ended by 2030.