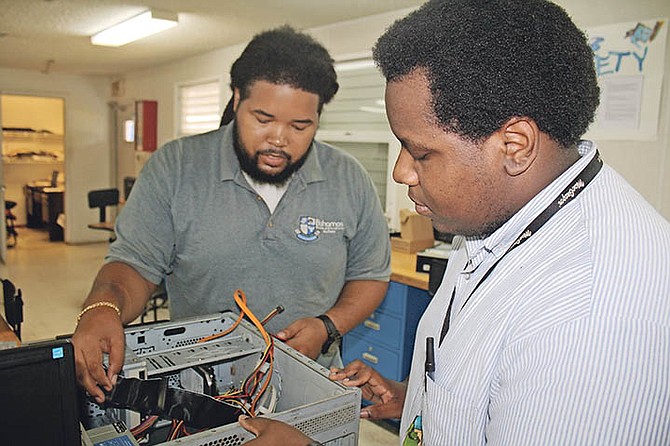 AFTER a recent curriculum review, the Information Technology (IT) Department of the Bahamas Technical and Vocational Institute (BTVI) will now be offering a set of new and optimised programmes come Fall 2017.
The new programmes include associate of applied science degrees in network engineering, software engineering and a redesigned IT management degree. This is in addition to an IT support specialist diploma and an IT entry level certificate programme – the latter of which will also be available online.
The IT entry level certificate can be completed in 40 weeks online or on campus within a semester. It offers the essentials for a student with at least three Bahamas Junior Certificates to jumpstart a career in information technology. Further, it is a springboard into the institution's diploma and associate's degree programmes.
Chair of BTVI's IT programme Anthony Ramtulla said offering an online programme is proof that the institution is changing with technology.
"Every single piece of this programme you will be able to do in the cloud. We're on the bleeding edge – not even on the cutting edge when it comes to our education," said Mr Ramtulla.
"A lot of the things we do at BTVI require that students be in the lab learning by experience. However, some of our programmes, especially at the early stages, are more cognitive, and we have technology where we can simulate the labs in the cloud, so you don't have to leave home," he added.
Furthermore, Mr Ramtulla noted that IT programmes are in demand and BTVI allows for students to also acquire international certifications from Microsoft, CompTIA or Cisco.
"It is proof our courses are industry validated," he said.
Meanwhile, BTVI's IT degree students are now on a path to a bachelor's degree in just three years. This is possible because of an agreement with the fully accredited New England Institute of Technology (NEIT) in Rhode Island, US.
IT student Dion Mackey is presently at Fanshawe College in Canada as an exchange student on an Emerging Leaders in Americas Programme (ELAP) scholarship. Following his two-semester stint, he is expected to return to BTVI to complete his degree.
"Information technology is always evolving. It's not stagnant. There is always something to learn. It is such a diverse field," he said. "I (got) so much from the IT programme at BTVI. The certifications open doors and prepare you for jobs in the IT field."