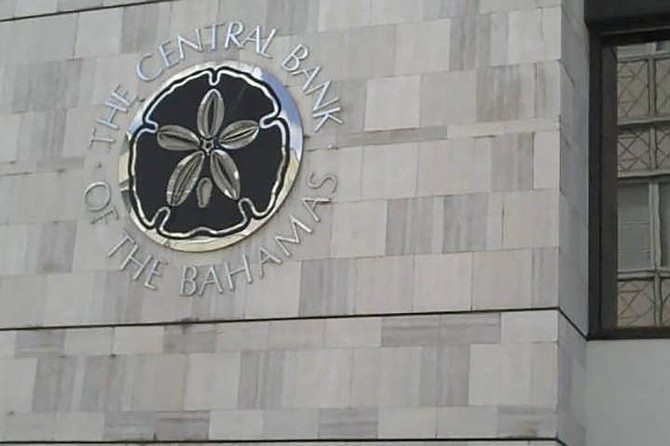 By NEIL HARTNELL
Tribune Business Editor
nhartnell@tribunemedia.net
An "horrendous" $234 million was added to the Government's fiscal deficit during the May 10 general election quarter, Central Bank data released yesterday reveals.
The regulator's May economic developments report shows the former Christie administration actually contained the 'red ink' during the first three months of 2017, even posting a "small surplus" for its Budgetary operations.
However, the Minnis administration's estimate of a $500 million deficit for the full 2016-2017 fiscal year suggests this achievement was squandered by excessive government spending and contracts in the run-up to the general election.
Given that the Central Bank pegged the nine-month deficit at $265.9 million, the new administration's full-year estimates - given by K P Turnquest, minister of finance, and in its Budget booklets - suggest that the Government spent $234 million more than it took in during the three months to end-June 2017.
Mr Turnquest did not respond to Tribune Business calls and messages seeking comment yesterday, but the figures provide an insight into the extent of the alleged hiring and contract signing frenzy that took place in the former Christie administration's final few months.
"With the Government recording a small surplus on its budgetary operations during the third quarter of the 2016-2107 fiscal year, the cumulative fiscal deficit rose by $5 million over the nine-month period to a preliminary $265.9 million," the Central Bank said.
"In terms of the components, total expenditure grew by $65.3 million (3.9 per cent) to $1.724 billion, outpacing the $60.3 million (4.3 per cent) advance in total revenue to $1.458 billion."
Given that the half-year deficit was pegged at $275 million, this suggests the Christie administration ran a near-$10 million 'surplus' for the three months to end-March 2017, seemingly making good on efforts to arrest the damage caused by Hurricane Matthew.
The Central Bank's April monthly report placed the end-February, or eight-month deficit, at $302.9 million - indicating that, possibly as a result of Business License fee collection timing and a crackdown on 'tax dodgers' - the Government had managed to generate a $27 million surplus for March.
These efforts make the seeming $234 million June quarter 'deficit' all the more remarkable, based on the new government's $500 million deficit projection for the full-year - unless the latter turns out to be incorrect. The Minnis administration was in office for just three weeks of that period, when all government spending would have been set or pre-programmed.
Rick Lowe, a 'fiscal hawk' with the Nassau Institute think-tank, told Tribune Business of the numbers: "That's horrendous, if that's the case. There's just no buckling down at all.
"The Central Bank numbers, I'm sure, are accurate. It's not good. It just adds to the burden."
The Central Bank yesterday also adjusted its position on the Bahamas' fiscal outlook, warning that prospects for reducing the deficit had become bleaker due to increased civil service salary costs.
"Medium-term fiscal consolidation prospects remain dependent on the success of measures to enhance revenue administration and curb expenditure growth," it said.
"However, the near-term prospects of a deficit reduction have lessened, owing to increased expenditure commitments from salaries and ongoing recovery costs from Hurricane Matthew."
The $234 million 'deficit' for the final quarter of the Government's fiscal year will only add to the explanations that will likely be sought by the rating agencies, Moody's and Standard & Poor's, when they visit Nassau in the next few weeks.
They, together with the International Monetary Fund (IMF), will likely seek further understanding of the Government's financial position, having already been unnerved by the $722 million borrowing and $500 million deficit announcements.
Breaking down the Government's fiscal position at end-March 2017, the Central Bank said: "The expansion in expenditure was driven by a $71.6 million (51.7 per cent) rise in capital outlays to $210 million, due mainly to a $55.5 million (51.2 per cent) increase in hurricane rebuilding-related infrastructure spending, and a $16.1 million (53.8% per cent) expansion in asset acquisitions.
"In addition, current expenditure expanded by $30.8 million (2.1 per cent), with a $37.4 million (5 per cent) rise in consumption outlays, and respective increases in personal emoluments and purchases of goods and services of $21.7 million (4.4 per cent) and $15.7 million (6.4 per cent).
"In a slight offset, transfer payments contracted by $6.6 million (0.9 per cent), as subsidies declined by $28.1 million (9.9 per cent) on account of decreases in outlays to the Ministry of Tourism, while transfers to households fell by $8.7 million (7.7 per cent). In contrast, interest payments - predominantly on external obligations - rose by $7.3 million (3.8 per cent)."
As for revenues, the Central Bank added: "The broad-based gains in revenue over the first three quarters of the fiscal period were led by a $53.7 million (4.3 per cent) rise in tax receipts to $1.308 billion, as taxes on international trade advanced by $22.3 million (5.9 per cent) due to higher import and excise tax collections.
"Similarly, selective taxes on services more than doubled to $21.9 million, due to a two-fold increase in gaming tax receipts to $20.8 million. Further, business and professional fees firmed by $9.7 million (9.5 per cent), buttressed by a $9.2 million (13.2 per cent) gain in general business fees. 'Other' non-trade tax inflows grew by $11.9 million (4 per cent), as measures to improve revenue administration contributed to a $16.3 million (18.2 per cent) expansion in property tax collections.
"In contrast, with the hurricane-related disruption still evident, Value-Added tax (VAT) receipts narrowed by $9.5 million (2 per cent) to $465.2 million. In addition, the $4.9 million (13.6 per cent) uptick in income—mainly from 'other' miscellaneous sources—as well as the $2.1 million (2 per cent) rise in fines, forfeits and administrative fees supported the growth in non-tax revenue."