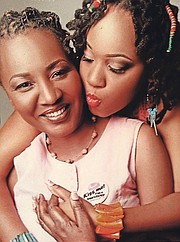 By ALESHA CADET
Tribune Features Reporter
acadet@tribunemedia.net
A new trend is catching among Bahamians who are looking to do something unique for their loved ones on special occasions. Instead of the traditional bouquet of flowers or chocolates, people are choosing to have their family members and friends serenaded by a singagram.
And someone who is hitting the high notes in this unusual industry is Brittany "Bernique" Percentie, who is prepared to overcome any obstacle, including climbing a fence, to deliver a singing telegram.
Whether it is for birthdays, anniversaries or Valentine's Day, the element of surprise is important to Bernique.
"Let me tell y'all this again, if you send for me you better believe I am coming by any means necessary. There are no boundaries for me, so don't think you will ever see me coming," she said.
Bernique said it is a joy to be able to use her musical talent to provide this service to Bahamians. She got started in the business after a video of her singing at a birthday function went viral. Since then, her mobile company, Singagrams by Bernique Percentie, has garnered 17,000 social media followers.
"My mom, Bronell Percentie, being the businesswoman she was, instructed that I jump on this quickly as it was unique and it gave me the opportunity to spread love that eventually broke through of my fear of public singing," she told Tribune Woman.
"My motivation came from the facial expression my mom would have every time I opened my mouth to sing and the tears of joy that flowed from the eyes of my now customers with whom I began sharing so many different situations with. To know that with the sound of my voice was I able to make another person smile became my greatest motivation. For that I am grateful."
But her most memorable singagram remains the one she delivered to her mother just months before her death last August.
Her mother was usually the person behind the production of the singagrams, but on Valentine's Day last year Bernique made preparations with her brothers and her aunt to surprise her mom with her very own personalised singagram.
"I knew she never thought I would be able to catch her since she knew all my secrets of how I do everyone else. I sent my eldest brother for the basket and my youngest brother to bring her inside the (beauty) salon where my aunt awaited her arrival. At the time we were having a family crisis where a family member had been out all day and was nowhere to be found in the United States. God forgive us all, but we used this as the perfect excuse to call her in the salon where they began to tell her we had some bad news. While they were talking to her I was hiding in the restroom, getting ready to make the grand entrance to show her how much we all appreciate her and love her so much that Valentine's Day and every day," said Bernique.
"As soon as she was deep in conversation, worried about that particular missing relative, who was safe by the way, I came out and began her favourite song, 'I Look to You' by Whitney Houston. I am usually the strong one, being able to comfort others, but this time as soon as I saw the tears flow from her face I couldn't sing another note. Keep in mind this was being filmed for hundreds, which quickly grew to thousands views via social media."
Since launching her mobile company, Bernique and her team have travelled across the country, sometimes on a weekly basis, to deliver singagrams. With each delivery, the company offers customers a personalised gift card, as well as a video along with photos of the moment.
Additional services include edible fruit baskets by Christina Kemp of Fruit Haven, and stuffed balloons by Shaquille Percentie of Looney Tunez.
"Ninety-nine per cent of the time there is always a positive feedback from Bahamians. Spreading love among people and homes is always looked at in a positive and accepting light. Bahamians, as we all know, can be a difficult set of individuals to please, but being blessed and highly favoured by God has given me the opportunity to use my gift and be loved and accepted by the majority of people. My overall goal is to bring happiness into as much lives as I possibly can. I see this passion of mine becoming global," said Bernique.
For more information about Bernique's singagrams, visit her Facebook page or contact her at 554-6847.