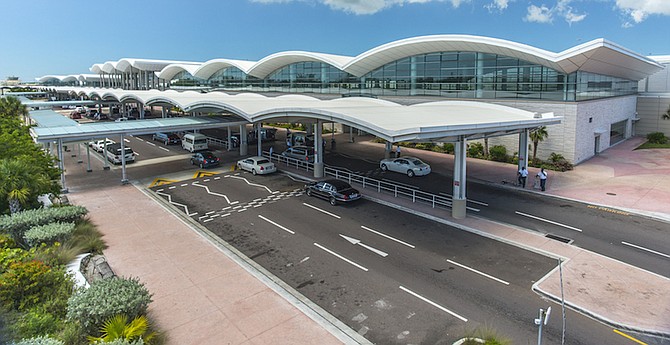 By RICARDO WELLS
Tribune Staff Reporter
rwells@tribunemedia.net
THE Nassau Airport Development Company yesterday confirmed plans to implement enhanced security measures for all commercial flights to the United States as of Tuesday, July 18.
A statement issued on Tuesday called for travellers to the US to arrive an estimated three hours ahead of their departure times and said those travelling with electronics larger than a cell phone in carry on or checked luggage should expect more stringent screening measures.
This statement comes after an announcement by US Secretary of Homeland Security John Kelly last month about enhanced security measures for international flights into the US.
NAD's statement read: "The Bahamas and 104 other countries globally are impacted by these new security measures. The enhanced security measures include but are not limited to: enhancing overall passenger screening; conducting heightened screening of personal electronic devices; increasing security protocols around aircraft and in passenger areas and deploying advanced technology, expanding canine screening, and establishing additional pre-clearance locations globally.
"As a result of the new measures, the travelling public is reminded to arrive three hours ahead of time for US bound flights. It is important to note that persons travelling through LPIA with electronic devices larger than a cell phone -- for example laptop computers or tablets -- as carry on or checked luggage are advised that these devices could require further security screening.
"The [US] Department of Homeland Security and the Transportation Security Administration (TSA) are working with local aviation stakeholders to ensure these enhanced security measures are fully implemented."
NAD said it expects the majority of these changes at Lynden Pindling International Airport (LPIA) will fall under the purview of the Airport Authority (AA) and the airlines that service US destinations.
According to NAD, the AA is the entity responsible for security at LPIA, and as the airport's main operator, NAD will work closely with AA and the airlines to support the implementation of the changes and the passenger experience at LPIA.
NAD insisted these enhanced security measures will help to secure all commercial flights departing Bahamian airports that serve as last points of departure to the United States.
Passengers are asked to stay connected to the airport and their airlines with social media for important updates.
Additionally, LPIA will also post updates on its website associated with any further changes.
Last Tuesday, Minister of Tourism and Aviation Dionisio D'Aguilar said the government was considering a significant investment in the aviation industry as it looks to bring the country's airports in accordance with new security screening measures.
He further indicated that equipment upgrades could cost the country $50,000 to $75,000 per apparatus, per airport.
In addition to New Providence, Abaco, Exuma, Grand Bahama and Eleuthera, there are occasional direct flights from the US into Long Island, San Salvador and Bimini.