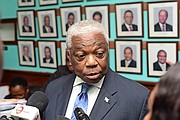 By BRENT STUBBS
Senior Sports Reporter
bstubbs@tribunedmedia.net
WHILE Minister of Works Desmond Bannister said the Bahamas Government would establish some type of memorial in honour of the late Dr Bernard Nottage, Bahamas Association of Athletic Associations' president Rosamunde Carey said they would honour their former president in a tangible way.
Both were speaking at the Memorial Service for Dr Nottage on Wednesday at the Kendal GL Isaacs Gymnasium where a number of persons expressed their gratitude for a man who emerged as one of the most productive presidents of the BAAA after a glaring track career as a sprinter before he ascended to the political ranks.
Among those who also spoke before a group of spectators, including retired 'Golden Girl' Chandra Sturrup, were Minister of Youth, Sports and Culture Michael Pintard, Bahamas Olympic Committee President Wellington Miller, Bahamas Track and Field Coaches Association President Shaun Miller, historian Alpheus 'Hawk' Finlayson and close friends Dr Ronnie Knowles and Godfrey Eneas.
A number of tributes in song were also performed, led by Patrick 'Rik' Carey and Sasha Martin.
When she assumed the role as the first female elected president of the BAAA, Rosamunde Carey said she confided in Dr Nottage, her childhood friend, who provided her with constant advice.
"As a true statesmen and nationalist, he embraced and congratulated me," she said. "He pledged his unwavering support and that of his government, then promised to assist with advice if needed.
"He made good on his promise on several occasions, but the one that stood out was the 2016 Rio Olympics. He was jubilant when we were triumphant. He beamed with joy when the Bahamian flag was hoisted. He stood at my side at those same games and shared his sentiments."
In providing a list of things that she felt stood out in Nottage's career, Carey said his international involvement could not be overlooked and that is why the BAAA will stage the 2018 Dr Bernard Nottage Flow Carifta Games, March 30 to April 2 at the Thomas A Robinson National Stadium.
On his return from college, Dr Nottage served as chairman of the 1976 Carifta Games, the first international event to be held in the Bahamas. Since then, the Bahamas hosted the games again in 1978, 1981, 1984, 1992, 2002 and 2013.
In addition to the honor, according to Carey, will come after she and BAAA's vice president Tonique Williams attend the IAAF Congress in London, England in August where they will wear their memorial barges in his honor.
It was at the 1987 IAAF Congress in Rome, Dr Nottage was one of the leaders who was successful in getting the "One Country, One Vote" campaign established in the IAAF when he was serving as president of the Central American and Caribbean Athletics Confederation for two terms from 1982-1990.
Bannister said Nottage, who participated in a series of events from the 1962 CAC Games, the 1968 Olympic Games and the 1970 Commonwealth Games before he officially retired, will be remembered for his role as an accomplished Bahamian in a facets of life.
He said the government would find a way to moralize the life and times of the late Dr Nottage in short order. However, he declined to say to what extent it would be done.