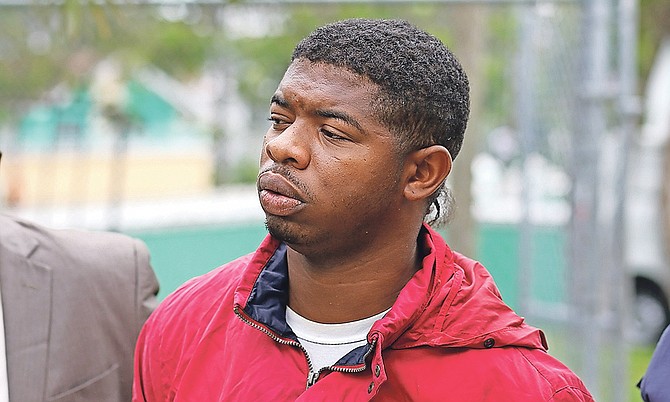 By LAMECH JOHNSON
Tribune Staff Reporter
ljohnson@tribunemedia.net
TWO men were remanded to prison yesterday after being arraigned in connection with two separate murders.
Dino Smith, 23, of Windsor Lane was brought before Chief Magistrate Joyann Ferguson-Pratt accused of being concerned with others and intentionally causing the death of Levardo Sherman Deveaux on July 10.
The murder charge was brought under Section 291(1)(B) of the Penal Code.
A charge under this section does not attract the discretionary death penalty if a conviction is reached at the end of trial.
According to initial police reports, shortly after noon, Deveaux was on Fowler Street, off East Street sitting in an open yard with a group of people when a black Nissan Teana drove past in a westerly direction.
The car turned around, heading east, and a gunman got out of the vehicle on the rear passenger side and shot Deveaux before getting back into the vehicle and speeding off in an unknown direction.
Deveaux was taken to hospital in a private vehicle, where he died of his injuries shortly after his arrival.
Chief Magistrate Ferguson-Pratt informed the accused that he would not be allowed to enter a plea because his case would be fast-tracked to the Supreme Court.
This would occur through service of a voluntary bill of indictment, scheduled for August 25.
However, due to the nature of the charge, Smith was denied bail and remanded to the Department of Correctional Services.
He was advised of his right to apply for bail in the Supreme Court.
Smith has retained attorney Ian Cargill to represent him against the allegation.
In the second murder arraignment before Chief Magistrate Ferguson-Pratt, 33-year-old Jamal Wallace of Union Village was accused of intentionally causing the death Remo Cox on August 5, 2013.
According to police reports, around 8.30pm on the date in question, Cox was attending a party when he got into an argument with two other men. One of the men pulled out a firearm and shot him in the chest.
Both men fled the area on foot in an unknown direction.
Cox was taken to hospital where he died of his injuries.
Wallace was also told that his case would be fast-tracked to the Supreme Court for trial on August 25. He too was denied bail and remanded into custody because of the nature of the charge.
He has retained attorney Murrio Ducille to represent him.