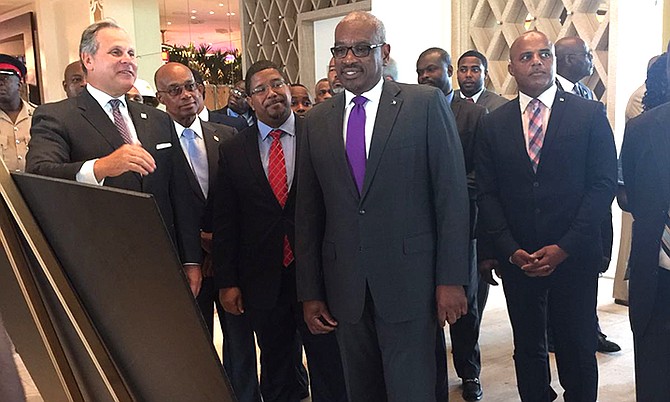 By KHRISNA VIRGIL
Deputy Chief Reporter
kvirgil@tribunemedia.net
THE SLS Lux at Baha Mar is on track for an October or early November opening having met specific markers, according to Chow Tai Fook Enterprises (CTFE) Bahamas President Graeme Davis yesterday.
While several parts of the resort remain incomplete, Mr Davis said as it stands there are over 2,100 Bahamians and less than 100 expatriates working at Baha Mar. At present the hotel has a more than 50 per cent occupancy rate, Mr Davis said.
He spoke to reporters yesterday during a tour of the resort attended by Prime Minister Dr Hubert Minnis, several Cabinet ministers, senators and other government officials.
"Right now, we are over 50 per cent occupancy which is excellent and as I said before ramping up quickly. So everything is as projected as we want (and) is ramping up properly making sure we are delivering an exceptional experience," Mr Davis said.
"We are on track with our SLS opening. What you saw today is all of our furniture is here. We are just putting down a new floor, which takes very little time in making sure we are up and running.
"The official opening (date) we are looking at (is) late October or the first week of November."
Asked to reveal which markers have been met to support the opening, he said: "Right now in the planning community we have exceptional feedback. We have been open over 60 days, over $75m already in prospects right now for visitor revenues for group business."
He continued: "Right now we are hosting the Bahamian team for the Commonwealth Youth Games, which we are very excited about as well as our transient customers enjoying some great sun on the beach and our casino and other amenities. So we are right on target.
"We have over 2,000 associates and growing rapidly. We will be at about 4,000 by year's end. We are over 2,100 in Bahamian and less than 100 in expatriates.
"And again our expatriates are here to make sure we deliver on some of that branded services (and) some of the skills. You saw the noodle chef (and) some of those exceptional and detailed areas that they are focused on to make sure that they are training Bahamians for the future."
He said currently 10 restaurants and lounges are open for business in the resort.
Last month, Tribune Business reported that Tourism Minister Dionisio D'Aguilar revealed Baha Mar was targeting just a 25 per cent average occupancy rate for 2017.
At the time, Mr D'Aguilar said: "Their plans are to continue to very slowly open up the property. Their goal was 25 per cent occupancy for the year, and then in the first quarter of next year to begin to complete the opening of the fourth property, the Rosewood.
"The marketing campaign will be rolled out as rooms come on stream. They believe that's the best way to do it."
Baha Mar's relatively low occupancy rate target for 2017 is not necessarily surprising, given that just the casino and associated hotel, plus the convention centre, were opened in late April. The remaining room inventory, represented by the SLS and Rosewood properties, is set to come on stream when these resorts open in late 2017 and by April 2018, respectively.