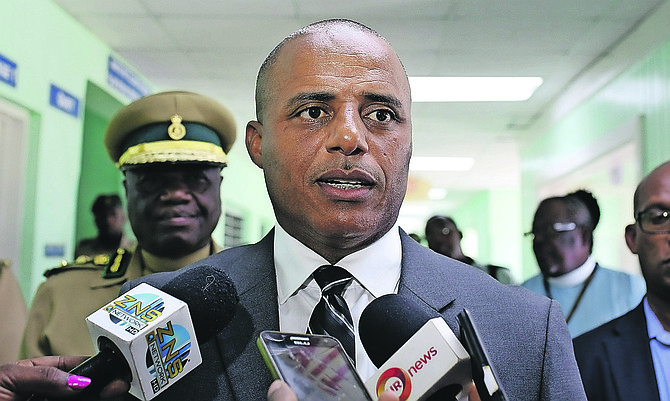 By NICO SCAVELLA
Tribune Staff Reporter
nscavella@tribunemedia.net
NATIONAL Security Minister Marvin Dames yesterday dismissed suggestions by former Free National Movement Chairman Darron Cash that Police Commissioner Ellison Greenslade's reported impending removal may be politically motivated, calling the claims "nonsense" and urging Mr Cash to "get the facts" before he speaks.
However, Mr Dames remained tightlipped on Commissioner Greenslade's future as head of the Royal Bahamas Police Force (RBPF) when questioned by reporters before a Cabinet meeting yesterday, only stating: "I have said over and over I have no comment, no further comment on the matter, and that's it."
On Monday, The Tribune reported that Commissioner Greenslade has been offered the post of high commissioner to London and is reportedly set to be replaced by Deputy Commissioner Anthony Ferguson as head of the RBPF.
Mr Cash subsequently criticised the FNM government over the revelations, and said Mr Dames' "mums the word response" on Commissioner Greenslade's fate is "troubling" to him.
While adding he is not a fan of Commissioner Greenslade due to the way the RBPF treated him during an investigation into leaks of information relating to Bank of the Bahamas in 2014, Mr Cash suggested the optics of removing the police chief will make it hard for his successor to appear to be politically neutral.
When questioned on the matter yesterday, Mr Dames said: "It's nonsense. Get the facts before you speak."
When prodded by reporters on Commissioner Greenslade's future, Mr Dames said: "I continue to address this, and we still are where we are. I have no comment on the matter."
On Sunday, The Tribune was also informed that Deputy Commissioner Emrick Seymour, now in charge of Freeport, will be transferred to Nassau as deputy commissioner.
Former Assistant Commissioner of Police Paul Thompson, meanwhile, said he is "very disappointed" over reports that Commissioner Greenslade is being "forced out" of the RBPF.
"I am hoping it is not so because Mr Greenslade has done an excellent job," Mr Thompson said on Sunday. "If you look at his record, as far as what he has done with the detection of crime, it is commendable. He is doing his job and he is doing it well."
Commissioner Greenslade was appointed the sixth commissioner of police on January 4, 2010, after serving as the deputy commissioner of police from January 1, 2009, upon completion of a one year secondment with the Royal Canadian Mounted Police.
Mr Dames also took part in this training in Canada when he was a member of the RBPF.
In January 2009, Mr Dames, then senior assistant commissioner of police, was appointed commander for Grand Bahama. Mr Dames was later promoted to deputy commissioner while Commissioner Greenslade ascended to the RBPF's top post.
Mr Dames quit the RBPF in May 2011 to take up a post at the Baha Mar resort. He won the Mount Moriah seat in the House of Assembly in the May 10 general election.