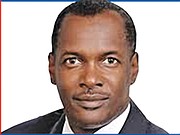 By RICARDO WELLS
Tribune Staff Reporter
rwells@tribunemedia.net
THE government is moving closer to implementing a "pay as you go" metering and billing system for both the Water and Sewerage Corporation and Bahamas Power and Light, according to Works Minister Desmond Bannister.
Expressing concern over the large percentage of Bahamians having to go without utility services due to high costs, Mr Bannister yesterday said a system that permits a consumer to "top up" their utility metre similar to a pre-paid cell phone could present the best option for those faced with such a reality.
"There are still about 5,000 persons in the country without electricity and it is disquieting to know that," said the Carmichael MP. "I am deeply concerned about those persons and the new board (of directors) is going to look into this and come up with thoughts and ideas.
"When you think about it, people need electricity for every aspect of their lives.
"The difficulty is we have to make a decision, yes the light bills are high but either you pay your bill directly or you pay someone else's indirectly."
According to Mr Bannister, the technology has been identified and a consultation process has already been promised.
Back in 2014, former Environment and Housing Minister Kenred Dorsett told the Bahamas Chamber of Commerce and the Employers Confederation's (BCCEC) Energy Security Forum the possibility of developing such a system would be explored with the aid of the Washington-based Carbon War Room (CWR).
At the time of his statement, Mr Dorsett said the move could have slashed the Bahamas Electricity Corporation's (BEC) nine-figure accounts receivables and help consumers manage their energy consumption.
Moreover, through the tenure of the 2007 Ingraham administration, then BEC board member and current Tourism Minister Dionisio D'Aguilar floated the idea of pre-paid metering on several occasions.
He revealed to Tribune Business previously the board he was a member of had been exploring such an initiative prior to the 2012 general election, believing it would aid both BEC and consumers' cash flows, and help the latter not to have their power disconnected.
However, despite these pronouncements and attempts under both administrations, the idea of pre-paid metering never got streamlined.
According to Mr Bannister, the Minnis administration is expected to make its final decision on the plan following consultation with the respective boards of the various utility corporations.
Last month, Mr Bannister said he had "serious concerns" with BPL's ability to "keep the lights on this summer" after frequent interruptions in power supply on New Providence and Abaco.
BPL blamed "copper theft" and "distribution challenges" for the constant power outages in Abaco.
At the time, Mr Bannister said he was already "looking at new, alternative ways" of producing energy, including solar.