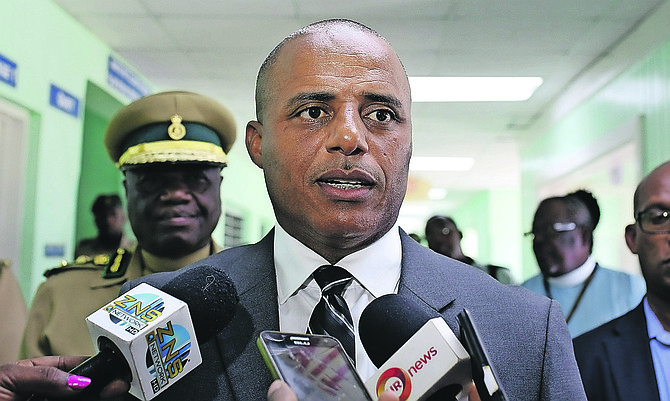 By SANCHESKA DORSETT
Tribune Staff Reporter
sdorsett@tribunemedia.net
NATIONAL Security Minister Marvin Dames yesterday admitted that there is a "significant amount of work to do" to reduce serious crimes in the capital, however he said he is "confident" that with the new policies the government plans on introducing, "things will begin to change".
Mr Dames said "crime issues" did not manifest overnight and it will be "some time to find a solution" to the problem.
His comments came a day after the country experienced its 76th murder for the year, marking the fourth homicide in five days in New Providence.
There have been 23 murders since the Free National Movement won the general election.
In response to the high level of murders, Mr Dames said in the short term, the government will increase the number of officers on the street and also plans to introduce new legislation.
"These are deep-rooted issues and problems and for anyone to think that they will go away overnight is absurd. We recognise that we have a significant amount of work to do, the police are doing things and we are changing and adjusting strategies," he said.
"The issues that we see have not manifested overnight, these are deep rooted and we have to introduce measures in the short-term and medium and long-term. We have continued to share some of what our government said we will do to bring those levels down especially toward violent crimes. It's all about presence and visibility and improving on strategies.... So, it's not as easy as just grabbing people and putting them on the street and saying 'alright, crime's down.'
"It's a very complicated business, and we recognise that you will see results, but you have to work towards those results in the long-term. There are a lot of things that have already improved, but it would be unfair for me to tell you they have improved to the point whereby murders and everything else will go away.
"It takes more than just enforcement to reduce numbers. And that's one of the things that we continue to say. So, we're working on what's the role of social services, what's the role of education, what's the role of national security, and how can we come together, and we've been working together as Cabinet colleagues to find the solutions, find the programmes, improve on existing programmes where necessary to ensure that at the end of the day we can bring relief to the communities of New Providence in particular, but throughout the Bahamas."
Mr Dames also said his ministry is working toward adding more officers to police stations in the evening.
"There shouldn't be that at some stations at night time you have two officers," he said.
"There's no way two officers can provide services to a district, especially not in New Providence. So, we want to know, if at any station in this country, if the number should be 200, then we should work towards 200, so that at any time of the day or night that station can provide the necessary services to that community no matter what time it is and that's what we're working towards."