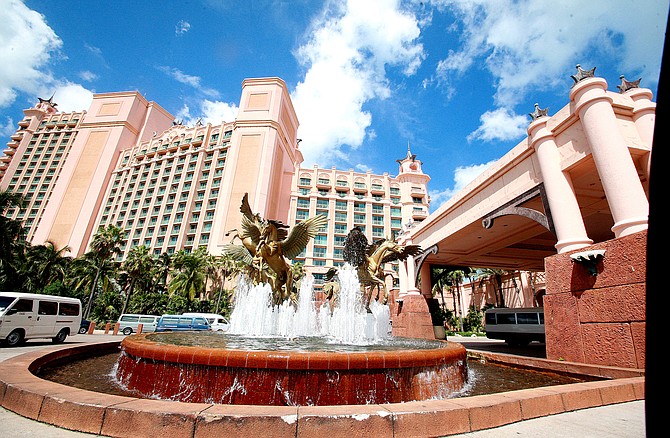 By NATARIO McKENZIE
Tribune Business Reporter
nmckenzie@tribunemedia.net
Atlantis's top executive yesterday admitted he fears 'market cannibalisation' as a result of Baha Mar's opening, warning that pricing "into the Christmas season" has already been impacted.
Howard Karawan, the Paradise Island resort's president and managing director, told Tribune Business that he predicted pricing by "new developments" would suck business away from Atlantis and other existing properties.
Speaking after he led Prime Minister Dr Hubert Minnis and Cabinet ministers on a tour of the property, Mr Karawan said there needs to be a "big push" to grow the Bahamas' tourism market. Yet he warned that success "does not happen overnight".
"When we developed the first phase, the second and third phase, we spent years growing the market," he said in reference to Atlantis. "It doesn't happen overnight. Would I like to see new developments doing more? Yes, I would.
"I do fear that there is going to be cannabilisation. I see it in pricing; not just now but even into the Christmas season. I see pricing of new developments taking away business from existing properties, not only here."
Acknowledging the concerns as to whether Baha Mar and Atlantis can co-exist, Mr Karawan told Tribune Business: "I sit as chairman of the Promotion Board. I think there needs to be a big push to grow the market, and if Baha Mar does what they said they were going to do, bringing in the Asian market and expanding to new areas, I think that is fine.
"If they do so by creating integrity in their pricing, then I think we will be OK, but 20 per cent discounts to our pricing.... that is not going to bode well for the Bahamas."
Fears that Baha Mar may split, rather than grow, the market for high-end visitors with Atlantis have been present ever since the $4.2 billion Cable Beach development was conceived in 2003-2005. Paul O'Neill, Atlantis's former top executive, publicly voiced such concerns during that period at a Bahamas Chamber of Commerce luncheon.
Should these fears come to pass, it would create downward pressure on room rates at both New Providence's mega resorts and, potentially other hotel properties, with none generating the profits they need to keep Bahamians employed and maintain a sustainable business model.
Dionisio D'Aguilar, the minister of tourism, told Tribune Business earlier this year that his priority was to avoid any "devastating cannibalisation" impact from Baha Mar's full opening on other New Providence resorts.
He said this was a greater concern than generating the extra 314,000 airline seats per annum that are needed to fill Baha Mar's net 2,300-room increase.
"I don't want them [Baha Mar] to increase occupancies at the expense of another property's deteriorating occupancy. It's very important that the marketing programme increase overall visitors to the country. We don't want the same number to be here and going to different properties. That doesn't help the country," Mr D'Aguilar said.
"I'm very mindful that a co-operative marketing programme is put in place to help the occupancies at Baha Mar and all other hotels. There will be some cannibalisation, but it can't be totally devastating."
"We don't want one property to benefit at the expense of another. We are putting programmes in place to ensure that does not happen. We want to make sure everyone has the particular segment of the market they are targeting, and they attract new, additional visitors to the destination to ensure the country as a whole benefits."