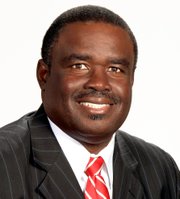 By KHRISNA VIRGIL
Deputy Chief Reporter
kvirgil@tribunemedia.net
GARDEN Hills MP Brensil Rolle is now the substantive minister of the public service and the National Insurance Board more than two months after he was sworn in as a minister of state, confirmed Prime Minister Dr Hubert Minnis yesterday.
Speaking to the press, Dr Minnis said the move was made to allow him to have more time as the country's leader to oversee the affairs of Cabinet among other things. Mr Rolle was sworn in as a minister of state in May.
Dr Minnis said: "That will give me more time to act in my capacity as CEO overlooking and overseeing the Cabinet. It will also give me the opportunity to spend one day per month in the Office of the Prime Minister in Abaco and one day per month in the Office of the Prime Minister in Grand Bahama. "So it allows me to deal with matters in those particular locations so that they do not necessarily have to be brought to New Providence."
Since coming to office, Mr Rolle has been the source of several revelations to do with matters in the public service, which suggest overspending of public funds.
Last month, he said the government's payroll increased by $10m as new employees were hired in the final five months of the former Christie administration.
He said the Christie administration hired 6,500 new public service workers during the past five years. He suggested that the new administration will take a more rigorous approach to hiring people and that some who were hired under questionable circumstances under the former administration could be terminated.
To highlight the questionable nature of some hiring practices, he revealed that under the previous administration a security guard was hired to guard a police station. And such was the loose nature of the process that some people were hired but never received a salary, he said.
Given his experience in the public sector as a former teacher and a former undersecretary in the Ministry of Works, he said the hiring process under the former administration departed from tradition.
Mr Rolle painted a picture of an administration that failed to fix the problems long known to plague the public service sector.