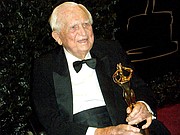 OUR very own national hero and philanthropist Sir Durward Knowles, who won the first ever Olympic gold medal for the Bahamas in 1964, is now the oldest living Olympic gold medallist in the world.
Sir Durward, who sailed to a first-place finish in the 1964 Star Class Sailing in Tokyo, Japan, will celebrate his 100th birthday on November 2.
He was the second oldest Olympic gold medallist living behind Adolf Kiefer, the 100 metre backstroke gold medallist in the 1936 Berlin Games.
This past May, Kiefer died at his home in Wadsworth, Illinois which is about 50 miles outside of Chicago.
Kiefer was 98 at the time of his death. He set the record in the 100 backstroke that lasted 20 years. He was the first man to break the one minute mark in that sport.
Like Sir Durward, Kiefer took his Olympic success to new heights, starting his own swim wear company and changing the sport through his designs.
Although Sir Durward is 99, and Kiefer died in May at 98, Kiefer won his gold medal in the 1936 Olympic Games in Berlin. Whereas Sir Durward won his gold medal in the 1964 Olympic Games in Tokyo.
According to Sir Durward, the two had never met but they knew of each other and their successes.
Sir Durward is a well-known philanthropist and humanitarian that has been involved in almost every aspect of our Bahamian society.
A successful businessman and one of the driving forces behind One Bahamas that strived to unite all Bahamians.
Sir Durward first brought the Bahamas to fame when he won the 1947 World Championship in the Star Class in Los Angeles California.
He went on to win multiple international races before winning a bronze medal in the 1956 Olympic Games with his one man crew of Sloane Farrington.
Then in 1964 at the Olympic Games in Tokyo, Sir Durward, with his one man crew of Cecil Cooke, this time sailed to a first-place finish in the Star Class events. He won the first ever Olympic gold medal for the Bahamas and established The Bahamas as a sporting nation. It took more than 16 years before the Bahamas would win another gold medal, this time in track and field.
Come November 2, Sir Durward will enter another faze of his life when he becomes a centenarian. And although there are some Olympians older than Sir Durward, there are none older who won a gold medal.
According to several sources, there are some plans in the making to erect a life-size statue in tribute to Sir Durward that will list the many accomplishments of this trailblazer.
The goal is to have it permanently erected on Prince George Dock to symbolise how this man brought the mariners to this country first.
Sir Durward has retired but lives a quiet life at his residence with his wife of more than 66 years, Lady Holly Knowles. They have three children, Jill, Charlotte and Randy.