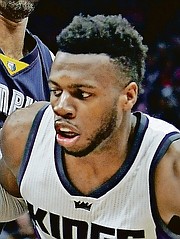 By RENALDO DORSETT
Tribune Sports Reporter
rdorsett@tribunemedia.net
Buddy Hield's busy offseason will include several stops back home for a series of community outreach initiatives.
First on the schedule will be the inaugural Buddy Hield Workshop and Tournament today and tomorrow at the Kendal Isaacs Gymnasium.
The workshop will facilitate hundreds of aspiring student athletes aged 10-17-years-old through a series of drills and skill position development hosted by Hield and his team of personal coaches from the United States.
Of the more than 300 participants, 200 will be sponsored by ALIV. The first session aimed at 10-12 year olds will take place from 9am-1pm, while teens from 13-17 will go from 1pm-5pm. The two-day event will also include a three-point shootout, slam dunk contest and a "Battle of Champions" in the senior boys division between the GSSSA champion Anatol Rodgers Timberwolves and the BAISS champion Jordan Prince William Falcons.
Hield arrived in the capital last night and said he is eager to get to work with as many young players as possible.
"I'm just excited to be in Nassau working with kids. I'm a big fan of giving back. My childhood was all about giving back wherever I can," Hield said.
"The same way it was done for me as young kid growing up in Grand Bahama where people came and impacted my life I will be the same way, giving back, showing people we still care and helping the the community in some kind of way.
"With the workshop format it's different, because we want to teach the kids something and have them walk away with some skills that can impact them for a long time. These guys that are with me and helping me are the guys that really trained me to get where I am today and I want to teach these kids to get there. Basketball is a sport that takes a lot of hard work, It takes more than going to the gym and dunking or shooting a few jumpers so if you really want it you have to go after it. We want to challenge them to bring out the best in them and that's what we plan to do this weekend."
Sam Grooms, a member of Hield's coaching staff said the young players will get an idea of the dedication Hield has in his approach.
"I want to show them the environment Buddy had to go through. People love the progress but not the process. When Buddy first got to campus as a freshman he wasn't what he eventually became as a senior. We just want to take them through these drills and we just want to see their response. That will tell you who really wants it," he said.
The Grand Bahama native and Sacramento Kings guard was named to the 2016-17 NBA All-Rookie First Team this offseason.
Hield became the 16th player in Kings franchise history and the 11th during the Sacramento era to earn All-Rookie Team distinction, a list that includes teammate Willie Cauley-Stein (2015-16 All-Rookie Second Team).
He played 57 games with the New Orleans Pelicans before he was traded to the Kings in February. In 25 games for the Kings, Hield made 18 starts and averaged 15.1 points and 4.1 rebounds per game and 42 per cent shooting from three-point range. On the season he averaged 10.6 points, 3.3 rebounds on 42 per cent shooting from the field and 39 per cent from three-point range. He finished fourth in 3-point and free throw percentage, eighth in field goal percentage and 11th in rebounding among all rookies.
"I encourage everyone to support the cause over these next few days," Hield said, "It's something I always liked, kids feed off the energy of bringing everybody back together, we want everyone to come out and enjoy this time that we have together. Basketball will not last me for 30 years but the impact I can have within the community can go on and on through others and that's what events like these are really about."
Event organiser Dupree Smith said the workshop format gives the event an opportunity to impact lives both on and off the court.
"We really wanted to focus on giving back to the community so we partnered with Hands For Hunger who will receive proceeds from the camp." he said. "We want to show kids what it takes to get better and that's why we thought the workshop was so important this year."
Hield's time back in the Bahamas will also include a week of activities in Grand Bahama dubbed "Dream Week".
Dream week will begin July 31 with a two day camp at the Jack Hayward Gymnasium and Pinedale basketball courts. Thursday and Friday will feature a tournament and the week ends on Saturday with a Hurricane relief concert.
"God has blessed me and put me in a position where I can help someone, where I can reach out and show someone somewhere that people still care. I'm just trying to do whatever I can to help my people. This is going to be an annual thing every year," Hield said. "I grew up less fortunate, I know what it's like and now I have it so I can help those in a position I was in. Right now we are just taking it step by step and eventually we can grow to get bigger and better."